Planning for college is a marathon. Like a marathon, you jog for a long time, find 100 different answers when you google 1 simple question, wonder if the finish line is near, and worry about your pace as you watch others pass you. Crossing the finish line is glorious and so is an acceptance letter to your child's college choice!
Think of this as a four-year high school plan. We have broken down important topics to address and how to address them each year of your child's high school career.
A College Planning Checklist for each year
Freshman Year
Freshman Year of high school is the time to set the foundation for your child's high school career. Have an open conversation with your child on the opportunity to go to college, and motivate them to begin to prepare for their next big adventure.
Costs, Payment & Financial Aid
It's no secret that college costs have dramatically increased. College financial planning early on will help ease the process when your child gets to their senior year. Although college costs are high, there is a slew of scholarships, financial aid options and saving tips you can consider. There are numerous competitive colleges willing to meet 100% of demonstrated need.
This is an important conversation to have with your child, as it is not intuitive for high school students to understand the actual expense of going to college. That does not mean college is out of reach but should be a reminder that the more competitive they are as a student, the more options they will have to attend college.
There are saving options that provide tax advantage benefits such as a 529 college savings account. A 529 savings plan is sponsored by states, state agencies, and educational institutions. There are two types of 529 college savings plans: prepaid tuition plans and education saving plans. Most parents open 529 accounts before their child is in high school but don't worry, it's not too late!
Course Selection and Course Rigor
Does your child's high school offer AP, IB and honors courses? Learn about what the school offers and how it is weighed in your child's GPA. Encourage them to take advanced classes in subjects they have proven to excel in. You want to make sure you're setting the tone for rigor and challenge. As colleges become increasingly competitive, it's important to start off on the right foot.
Extracurricular Activities
Are you tired of the word holistic yet? Sorry, it's not going anywhere. More colleges are taking on the holistic college admissions approach. Meaning, college admissions officers will review your child's entire application beyond grades and SAT or ACT scores. They highly value extracurricular involvement, demonstrated interest, and interests. Discuss with your child what their interests are and have them take a personality test. We like to use 16 personalities, it takes less than 20 minutes and provides a great deal of insight. We encourage students to start exploring different clubs, organizations, and clubs as early as freshman year.
At 14, knowing the intended major for college can be daunting and dabbling in different activities can narrow down interests.
A parent's role in extracurricular activities is important for logistical support. How will your child get to their activities, meetings, recitals, or games? Do they have an important date that interferes with a family vacation or an important birthday? Planning ahead and being organized are skills that are pivotal for all college students and practicing early on will benefit your entire family.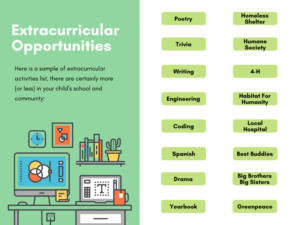 School Counselor
Encourage your child to build a relationship with their school counselor. They'll likely write one of their letters of recommendation and be a great resource when navigating the college admissions process in 11th grade and 12th grade. According to the American School Counselor Association in 2017-2018, the National Average Student-to-School-Counselor ratio is 482 students for 1 counselor. The better they know your child, the better they can provide personalized and strategic advice. Introduce yourself to the counselor too. Be mindful to hold your child accountable in going to their counselor instead of you serving as a liaison.
High-School Summer Plans
Summertime is not the time for your child to spend all day binge watching Netflix or Disney+. While we don't advise you to cancel your family summer vacation for the next four years, consider what your child could accomplish during the summer and schedule a vacation early on or towards the end of summer. Summer is a great time to volunteer, gain experience, and participate in the kind of extracurricular activities they enjoy. Look into summer programs for high school students or local non-profit organizations whose mission your child appreciates.
Sophomore Year
Much of 10th-grade year will be similar to 9th grade but now you have the experience to help guide you.
Course Selection and Course Rigor
Review how your child's grades from 9th grade and discuss what options are on the table for the sophomore year.
For example, did they breeze by Algebra I with an A+? This is a good place to look into Algebra II honors.
On the contrary, did they barely pass Algebra I Honors with a C+? This is a good place to look into Algebra II regular and check for other subject matters that could be enhanced.
Extracurricular Activities
What did your child participate in freshman year that they wish to continue? Was it the debate team? Maybe soccer? Or the Student Government Association (SGA)? Whichever activity they enjoyed, encourage them to re-enroll in 10th grade. College admissions officers like to see a student's consistency. Drop the activities they did not enjoy and stick to the ones they did. Now that your child is honing down on activities, they can begin to take on a larger role. If your child loved volunteering at the animal shelter, maybe they can organize a fundraiser event at their school. Taking initiative and pioneering events for a cause at school can give them a leg up in the applicant pool.
College Lists
We have over 4,000 colleges in the US. The options to choose from are vast and it's great! You know your child best and you could support them in finding a college that is right for them. The results from the 16 personalities test mentioned earlier could also help flesh out what colleges are good fits. Talk with your child on the benefits of a liberal arts education, out-of-state opportunities, research universities, specialized universities, state universities, and more. Discuss the difference between rural, city and suburban settings. Maybe your child loves the beach, you can consider colleges near the beach. Draft a list of at least 15 colleges that are of interest to your child. Be liberal with their options, you will support your child in narrowing them down later on.
Keep an eye out for when your high school hosts a college fair. This is a great event for you to attend with your child. You will meet with college admission officers, and have the opportunity to ask plenty of questions about tuition, financial aid, culture, clubs, dorms and more.
PSAT
The PSAT is commonly given to 10th-grade students in October and then again in 11th grade. The PSAT in 10th grade is a great practice round for when your child retakes it in 11th grade. In 11th grade, it can be used to apply for scholarships, the most well known being The National Merit Scholarship. The PSAT score is out of 1520, while the regular SAT score is out of 1600.
High-School Summer Plans
The blurb on summer plans freshman year remains the same for this year with the addition of college visits. Visiting and researching colleges takes time (and money). The summer of junior should be jam-packed, therefore, the summer of sophomore year is a good time to visit colleges on your child's list. Talk with your child on what colleges are top of the list and devise a route to visit them over the summer. Your child will live in or near this campus for 4 years, it is important for them to see the campus and experience what the culture is like. If finances are an issue, reach out to your child's school counselor on opportunities for cheap or free college visits. They would have resources for you.
Junior Year
11th grade is the most important year of high school; everyone knows this, but why? I'll tell you.
Course Selection and Course Rigor
More than half of high school is over. How is your child's GPA? How are they standing out? Keep that in mind as your child selects courses for junior year. Junior year is the last full year of a transcript that college admission officers will see before you are admitted to college. I cannot emphasize this enough; this is the last year your child can shine, shape out their GPA and give teachers a reason to give them a great letter of recommendation. Challenge and rigor should be clear on the transcript.
Extracurricular Activities
By this point, your child should be taking on a leadership role. Although it does catch the eye to have the title "president," what really matters is what your child did in the organization. Once your child builds their resume, they can list out all of their duties and accomplishments, regardless of what title they held. Chances are their club duties that may align with their intended major or mission of the school they're applying to.
SAT/ACT
Standardized testing is a point of stress for a lot of students. As a parent, you can help find dates and locations for testing and provide financial resources for them to prepare for the test. There are plenty of costly tutoring programs and free resources (e.g. Kaplan and Khan Academy). ACT and SAT tutoring can greatly increase your child's score. Consider these options when trying to look for channels to improve your child's score.
Additionally, some colleges are opting to go test-optional, meaning they do not require your child to submit their test scores to apply. Some competitive schools that are test-optional include Bryn Mawr College, Bowdoin College, and the University of Chicago joining recently. If your child is struggling with the ACT and SAT even after studying, tutoring and preparing as best as they can, you may want to review the list of test-optional colleges with them as well.
College Lists
Revisit the college list you and your child built out. A list containing Harvard, Yale, Princeton, Dartmouth, Brown, Cornell, Columbia, and the University of Pennsylvania is not a comprehensive list. All the ivies and other elite universities with less than 10% acceptance should be considered a reach school. Narrow down the list based on college visits and conversations you've had with college admission officers.
Parents can help kids with getting organized on deadlines. Columbia's university application deadline for regular decision was January 1st while Boston's university application deadline was January 6th. Other colleges like Penn State University, have rolling admissions, meaning applications are reviewed upon receipt and are technically not "due" until May 1st.
High-School Summer Plans
Your child is officially a rising senior! This is the most important summer in high school. Ideally, your child has an internship secured for the summer. Since you narrowed down your college list, visit the ones that you have not seen and are still at the top of the list.
Senior Year
It's the final stretch! Read our blog on a timeline for 12th-grade students with your child and create a college planning checklist. It's important to stay on top of your expenses for financial paperwork students will need to fill out.
The college admissions process is long and complicated. Students often express their feelings of stress, confusion and being overwhelmed. Motivate your child to stay on track and hold them accountable. In less than one year, they will be off to college and on their own.
Alejandra Hernandez