How the resume maker
works
A resume is the most important part of your job search but also one of the hardest to write. We've made it easy for you with our AI-powered tool that creates perfect resume content based on the context and job title you give us.
resumemaker.ai follows best resume bullet point practices and understands what kind of skills and experience employers need, helping you make a high-quality resume in minutes.
You'll have a chance to tweak and adjust any information on the resume before finalizing your resume. You can then experiment to find your favorite display of that content by choosing between our standard resume format, alternative resume format, compact resume format, and bold resume format.
What's included
in resumemaker.ai
A resume template for every industry
Stuck writing your resume? We get it. It's hard, and you might not remember the intricacies of your past experience. Our AI-powered resume maker understands ATS software and takes a deep dive into job roles everywhere. Choose from hundreds of templates and watch resumemaker.ai carefully craft your resume in minutes.
Over 250 cover letter templates
A cover letter should be two things: specific and up-to-date. Demonstrating your qualifications and expertise can be challenging. resumemaker.ai ensures you're not selling yourself short through our AI-powered cover letter templates that understand what employers want to see in any role.
Lifetime Features
Enjoy all of the premium benefits of resumemaker.ai, including ATS Keyword Targeting, Real-Time content analysis, flexible formatting tools, link sharing, and a career coaching expert resume review.
What's included
in resumemaker.ai
AI making your resume
right before your eyes.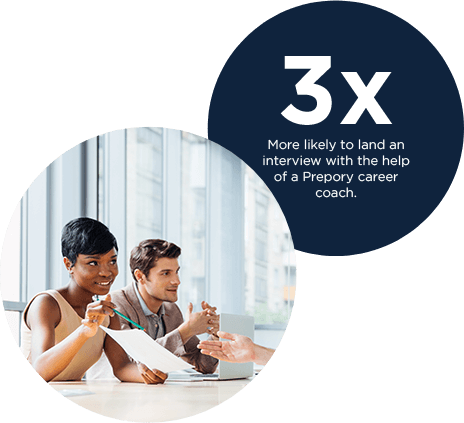 Want more than
just resume help?
After finalizing your materials with resumermaker.ai, you may want to learn more about our end-to-end career coaching program, Sprout. Through Sprout, our expert team of career coaches will guide you from the start of your job search to negotiating a job offer and landing your next big role.
Our career coaches analyze, improve, and optimize everything from your online presence to your job search strategy to your interview skills. We help you build, thrive, and grow, all while earning the salary you deserve and propelling your career to greater heights.

Land your next great job with
a Prepory career coach!
Let us help you advance your career, Identify new opportunities, participate in mock interviews, build, thrive, grow, and land your dream job.