Demonstrating to Admissions Officers Why You're a Good Fit for Their School
When you apply to schools your senior year, you'll likely write several supplemental essays for your applications in addition to your personal statement. Learn more about the personal statement here and supplemental essays here. Supplemental essays are an opportunity for you to further demonstrate who you are and your interest in a particular school. One of the most common types of supplemental essays is the "Why This College?" prompt. This prompt seeks to get at the core reason(s) why you want to attend the given school to which you are applying. It wants to know what you admire about the school and how you see yourself fitting into its culture and academic environment. To answer it well, you must demonstrate how the school is a good fit for you (and how you are a good fit for the school) by drawing on specific details and examples. The key to answering this prompt is doing your research.
The "Why This College?" Prompt in Action
Some schools ask the simplest version of the prompt:
Tufts asks: "Which aspects of the Tufts undergraduate experience prompt your application? In short, 'Why Tufts?' " (100-150 words)
Colorado College asks: "Why do you wish to attend Colorado College and how would you contribute to the community?" (no more than 250 words)
These two example prompts are pretty open! You are free to talk about academic, social, professional, cultural, and/or personal reasons why you wish to attend the school.
Other schools ask variations of the prompt that focus on a particular aspect of life at the college/university and why you want to experience it:
The University of Michigan asks: "Describe the unique qualities that attract you to the specific undergraduate College or School (including preferred admission and dual degree programs) to which you are applying at the University of Michigan. How would that curriculum support your interests?" (500 words)
This prompt asks you to focus specifically on why you want to study within a given school and/or a given subject at the University of Michigan. It wants to know what makes UMichigan stand out to you when deciding where and how to pursue your academic and professional interests.
Brown University asks: "Brown's Open Curriculum allows students to explore broadly while also diving deeply into their academic pursuits. Tell us about an academic interest (or interests) that excites you, and how you might use the Open Curriculum to pursue it." (250 words)
This prompt asks you to focus on how you will leverage Brown's course offerings and curriculum structure to pursue your academic interests. It wants to know why Brown is the place where you could satisfy your intellectual curiosity.
The Do's and Don'ts of Responding to the "Why This College?" Essay
There is no one right way to answer the "Why This College?" prompt. You can approach the prompt in a mathematical, analytical manner or in a more creative, artistic manner. What matters most is that you answer the question in a way that best illustrates who you are, what you have to offer to the school, and what you hope to gain as a student. Consider the following criteria below when writing your response and be sure to avoid common pitfalls and mistakes:
Do: Mention specifics.

If the school offers a program/course/major that interests you, mention it! This will show that you've done extensive research and can relate your interests to what the school has to offer. Be sure to note what makes this school's offering unique relative to other schools. If you could change the name of the college in your response to another college and your response still works, you are not being specific enough! Additionally, being able to speak about specific buildings/resources/opportunities around campus or perhaps a professor you'd like to meet will make your essay stand out. Utilize the school's websites and academic department pages to investigate what courses and professors pique your interest. And, if you're unable to make a campus visit, consider a virtual tour. Virtual tours can be accessed directly on Youvisit.com. This website has access to over 1,000 colleges and university campuses. If a college you're looking for isn't on the website, you can always search on the school's website for virtual tours.
Do: Connect back to yourself.

When listing specifics about a school, make sure it is clear why you value that the school has a particular opportunity, value, or characteristic. It is not enough to state unique qualities about a school. You must qualify why such things are important based on your particular interests, past experiences, and future ambitions.
Do: Explain how you'll contribute to the school. 

Colleges are looking for students who can make an impact on their campus and its surrounding community. Research their clubs, organizations, and how you can make a difference by being a part of communities and groups on and off-campus.

Do: Illustrate fit both ways.

Talk about how you are a good fit for the school. It is not only important that you mention what you like about the school, but what the school will appreciate about you as a student there.

Do: Talk about the school's culture.

If any of the school's values align with your own, the school will want to know! Schools may be invested in social justice and activism. For example, Brown University has a rich history of students participating in on-campus protests to push for university-level changes, as well as students participating in off-campus protests to push for change at the state and national levels. Other schools are committed to serving their communities. Georgetown University, for example, is grounded in the Jesuit ideal of service to others and has more than 100 university-sponsored service opportunities working within the DC area and beyond.

Don't: Mention the school's prestige, size, reputation, or location.

The school doesn't want to hear that they are highly competitive or well-liked. They know this. The school also doesn't want to hear random facts about its history, geographic placement, or demographics. If you do mention any of these things, there should be a personal and important reason why. For example, you might mention location if you've grown up in the area and want to foster partnerships between the university and local organizations you currently work with.

Don't: Misstate people, places, or things unique to the school. 

When making factual statements about a school, do not confuse their course titles, faculty, mascot, or facilities on campus with that of another school. Fact-check everything.

Don't: Use emotional language to justify fit.

You will not convince an admissions officer that you are a good fit for their school by telling them that you just "feel" like you are or that you could tell the first moment you stepped on campus. Give them concrete reasons why their school is a good fit.

Don't: Reuse language from the website.

Use your own words to make your own points. Do not copy language from the website, blog posts, brochures, or anywhere else.

Don't: State the obvious.

When explaining the reasons why a school is a good fit for you, you may assume that the admissions officer is familiar with the general history, offerings, and traditions of the school. You do not, for example, need to explain to UChicago what Scav Hunt is. You could, however, explain why you appreciate the ethos of the tradition or why you want it to be part of your college experience.
Writing Your "why this college?" essay
Now that you know more about what content to include and avoid in your response to the prompt, you should determine how'd you like to structure your response. Much of your structure will be determined by word count restrictions. As you may have noticed, word count restrictions ranged from 100 to 500 words for the four prompts that we looked at in the beginning. The amount of space you have will determine how many specific reasons you can list for wanting to attend the school. In light of this, let's consider a few different approaches for structuring and writing your essay.
Listing Reasons One approach to writing your response is to gather a list of 8-15 specific, unique characteristics, offerings, and opportunities offered by the school and then group them into categories. For example, you might have 3 categories–academic, professional, and volunteer–that you list 3-5 specifics under.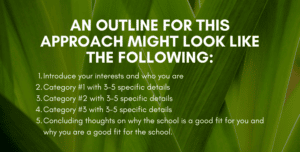 This approach allows you to jump around in your response a lot to provide a brief survey of what draws you to the school. For an example of this approach, please click here.
A Few Reasons Another approach is to focus on 3-5 specifics unique to the school and connect each of these back to you. You might connect a specific back to you by asking: How do these specifics fit into what you've already done and your established interests? How do these specifics fit into what you hope to accomplish in college and/or what you want to do after college?
By focusing on a handful of reasons or less, this approach allows you to share more about yourself. It gives you the space to emphasize why you are a good fit for the school.
Core Value/Reason This approach builds your response around one core value or reason why you would like to attend the school and then tells a story about it. This approach is particularly valuable when you want to provide some depth to your response and feel restricted by the maximum word count limit. If you choose to focus on the sole reason why a school is a good fit for you, be sure to focus on something that is truly unique to the school. You do not want to write an essay that could theoretically be submitted to another school.
Concluding Thoughts on Writing the "Why This college?" essay
The college application process and its many essays may feel at times like a series of hoops you have to jump through in order to secure what you'll be doing next year. Yet, you should think of the essays as offering an opportunity for you to seriously think about what you want to do with the next few years of your life and where you want to do it. Deciding where to attend college is one of the biggest decisions of your life and the "Why This College?" prompt is one of the best tools for making an informed decision. So, enjoy the research process, discover what excites you about the prospect of attending a given school, and share that excitement and your vision for the next few years of your life in your essay.
To learn more about how supplemental essays play into your admissions decision, check out our blog post on the holistic admissions process!