Why Email a College Admissions Office?
Most college admissions officers consider emails from students a form of demonstrated interest or the degree to which you express an interest in attending a school. Demonstrated interest is one of the many factors college admissions officers consider when evaluating your application. It is the best way to show an admissions officer that you have done your research about their college and are eager to learn more. In fact, a study performed by the National Association for College Admission Counseling found that demonstrated interest was one of the most important factors in the college admissions decision process. As such, it is important that your email presents your best self.
1. Find your admissions officer
If possible, locate the email of the admissions officer for your region. For example, if you live in Florida, you want to target the email to the admissions officer that reads for the Southeast. It is important to locate the admissions officer for your region since they will be the person reading your college application when you submit it. They should be familiar with your name and remember you positively.
2. Address the admissions officer properly
Begin your email by addressing the admissions officer in a kind, proper manner. Don't use slang or abbreviations that you might use with your peers while texting. Your writing should highlight your maturity and ability to communicate in a professional setting. 
"Good morning, Ms. Smith,"
"Hello, Mr. Johnson,"
Admissions officers receive hundreds of emails a day from prospective students so a concise email that simply gets to the point saves time and energy. Therefore, you shouldn't spend a great deal of time introducing yourself. You are unlikely to increase your probability of acceptance by sending an email detailing your life's accomplishments. Instead, write a brief sentence or two, providing your name and any relevant background information that may inform their answer.
"My name is Hayley Hall and I am applying to Pomona College in the Fall of 2020. I am particularly interested in majoring in Engineering."
Once you have provided your name and relevant information, ask specific questions. Don't ask generic questions you should already know the answer to from your college search.
Avoid questions like:
"What's the acceptance rate for UCLA?"
"What does Yale look for?"
"How much does each credit hour cost for in-state students?"
Colleges provide lots of general information about the school on their website. Search their website thoroughly before reaching out. If you ask for information that the college already provides, it might signal to an admissions officer that you haven't done your due diligence looking for information on your own.
Instead, ask more detailed questions like:
 "What types of companies does the College of Engineering have partnerships with?"
 "When do most students start performing research?" 
"What would you say students are most excited about on campus?" 
These kinds of questions prove that you have done your research but want more in-depth information about their university. Your curiosity will bode well with an admission officer. It will signal you are seriously considering their university. Their answers will help you make informed decisions about the schools you are considering and potentially provide information for your "Why This College" essay!
5. Do not be afraid to ask questions about your required materials
You can also email admissions officers to confirm they have received all of your materials. For example, if you have sent in your SAT/ACT scores but haven't received a confirmation email from the school that they received it, you can follow up with the school. The email should be detailed, concise, and professional.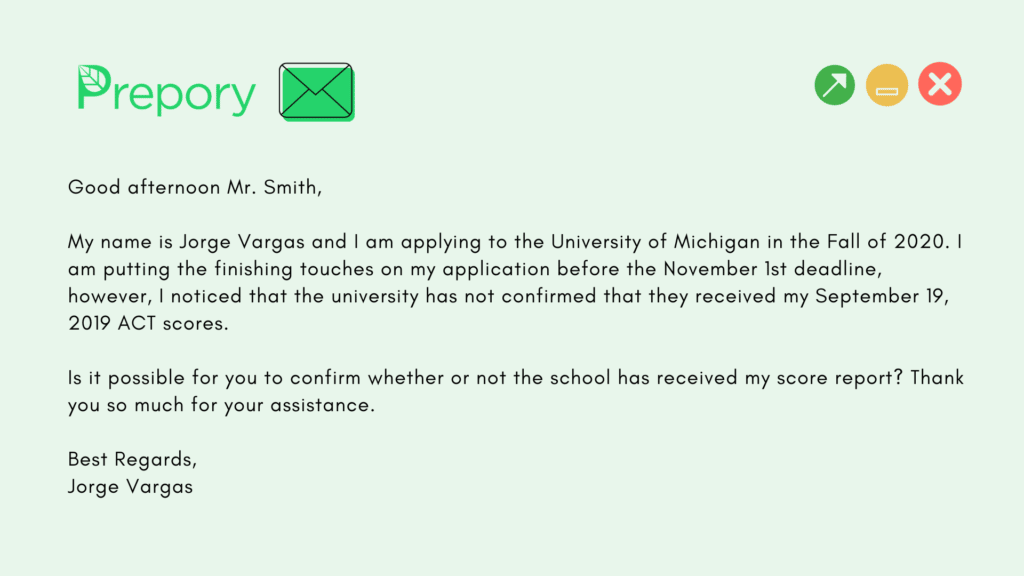 6. Make sure to thank the admissions officer
You want to leave a good impression on the admissions officer. Therefore, you should thank the admissions officer for his/her help. You may also want to leave an alternative form of contact. While it is unlikely they will call you, it simply provides the option if an admissions officer needs to get in contact with you immediately.
Your email correspondence with an admissions officer is often your first communication with a potential university. You should take your emails seriously while maintaining your own voice. Try to keep your emails to a minimum; don't email admissions officers every day as that can likely become burdensome as well.
Sample Email to a College Admissions Officer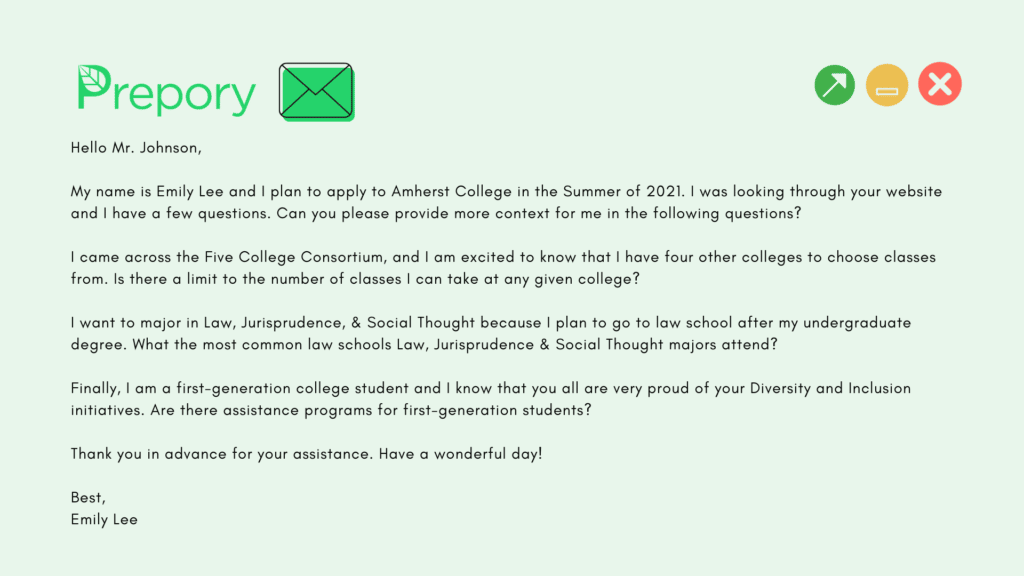 Emails are great to demonstrate interest and learn more about a university. Use this correspondence wisely!