College applications take a lot of time, thought, and effort. From extracurricular activities and AP classes to standardized tests, there's a lot to keep track of, and it can be difficult to know how to stay organized. But what about college interviews? Do all colleges have interviews and how do you know if you should schedule one?
How important are college interviews?
In this article, we will discuss the importance of college interviews, how to decide whether or not you should schedule one, and how long the typical college interview lasts. We will also share 10 helpful tips to help you prepare for your college interviews.
So, how important are college interviews exactly? And do colleges interview all applicants?
Not all colleges offer interviews. And even if a college does offer interviews, it doesn't necessarily mean you should schedule one.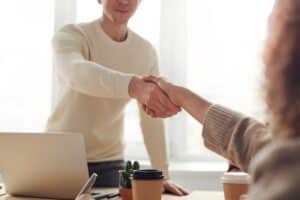 If you have a strong written application and a decent chance of being admitted, you probably don't need to schedule an interview. 
If, however, you excel in interview settings and feel like parts of your written application are lacking (such as your high school GPA or standardized test scores), go ahead and schedule an interview. Similarly, if you have Ivy League aspirations, you'll want to schedule an interview. This is because you should take advantage of every opportunity given to you when applying to highly-selective schools. 
Now, how long are college interviews? Typically, college interviews will last between 30 and 60 minutes. That said, give yourself plenty of time, and don't schedule anything after your interview. After all, you want to feel as comfortable as possible during your interview. 
10 College interview tips
After you've determined which colleges do interviews on your college list, it's time to start preparing! One of the best ways to know how to prepare for college interviews is to review what college admissions officers look for in an applicant. Then, after you have a thorough understanding of what you should be aiming for, you'll want to review the following 10 tips and start practicing!
Make sure you know where you are going, how to get there, and where to park. While you may want a parent to drive you, it's important to arrive at the interview by yourself. This demonstrates maturity and self-efficiency. Arrive for your interview 5 to 10 minutes early.
Give the interviewer your undivided attention. Don't schedule anything directly after your interview and don't look at your phone or the clock during theinterview. Be polite and thank the interviewer for their time at the end of the interview. You'll also want to send them a thank you note after the interview.
Be mindful of body language
Dress up. Be mindful of your posture and body language. Sit up straight. Smile. Make eye contact. Avoid using slang and be mindful of any nervous ticks you may have like biting your nails or bouncing your knee.
Bring a resume or activity list. This can help spark conversation, especially if you get nervous and need help getting back on track!
Research the college thoroughly ahead of time. This will help you demonstrate a genuine interest in the school. Prepare a list of thoughtful questions for the interviewer. If the interviewer asks where else you are applying, don't feel pressured to share your entire college list. In fact, it could hurt your chances if you do so.
Reflect on your future goals
Reflect on your goals for the future and practice talking about these goals with others. While you don't necessarily need to know your college major or intended career, you should have a mature and thoughtful list of future goals.
Anticipate common questions
While you should prepare talking points, try your best to sound natural. The interviewer wants to get a better sense of your personality, so it's important not to sound too rehearsed.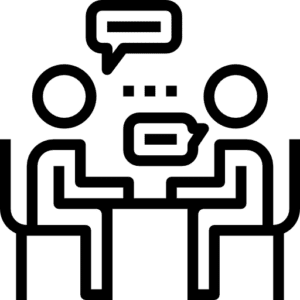 One of the best ways to prepare for your college interview is to do a mock interview with your parents. Not only will this help you figure out what to say, but it will also help you become more aware of your posture and body language.
Be specific and enthusiastic
Answer each question thoroughly. Elaborate and provide examples. Avoid overly brief responses. Be enthusiastic and highlight your strengths and passions.
Key takeaways and moving forward
Now that you know what to expect in a college interview, you can start brainstorming answers to common college admissions interview questions and reflecting on your goals for the future. As previously discussed, you don't need to schedule an interview at every college you apply to. Rather, schedule a handful of interviews at your top schools. In the meantime, if you have more questions about the college application process, review our article on what actually happens during the college admissions committee review. And if you need help preparing for your college interviews, reach out to learn more about our services and how we can help you reach all of your college-related goals.