Coronavirus and social distancing introduced a new model of interviewing that will likely continue into the future. From Zoom to Google Hangouts, there are tons of video interview platforms to meet with a company from the comfort of your own home. According to the Legal Job Site, online job interviews increased 49% since 2011. Whatsmore, it seems the move toward online interviews is widely received by both interviewers and interviewees. Many may feel that online interviews may be better, perhaps more comfortable, than in-person interviews. However, it is important to consider the differences between the two modalities. Understanding your strengths and weaknesses as it relates to online interviews will help you better prepare for and ace every interview.
Before the video interview
You should prepare for online interviews in the same way you prepare for in-person interviews. Take fully fleshed-out notes on the company and enter your meeting with informed questions. Some people may think that having the company website or extensive notes open in another tab can suffice in an interview. However, opening another tab can do more harm than good. Online interviewers can tell when you are not looking into the camera or that you are reading from a list of notes. Even if they don't, you may spend more time parsing through your notes or trying to find specific points on the website than actively engaging with your interviewers. It may also stunt natural conversation if you pause to locate a particular point you would like to speak about.
 As such, it is best to focus on the interview without the use of notes. Memorize quick facts you think are important about the company and direct the conversation to those points when appropriate. You will notice how much more confident you feel when you are familiar with the information.
It is often difficult to know what to wear to an in-person interview. Some outfits may be too formal, others too informal. It is always better to err on the side of caution and assume formal business attire unless you are told otherwise. While your online interview may only show a bit of your shoulders, it is important to ensure that you are fully dressed. Wear a shirt, blazer, and slacks. Some companies have been known to ask interviewees to stand up so they can ensure they are fully dressed. Even if they don't, you never know what could happen. Wearing professional bottoms avoids any awkward situations due to unprofessional bottoms. 
Similarly, you may want to test your camera to see if you look washed out. Videos have a way of making us look different than we do in real life. If you wear makeup, you may want to use it. Otherwise, find lighting in your home that makes you look and feel your best. 
When to join your video interview
The unspoken rule for in-person interviews: arrive early. This may still be the case for online interviews, but you should arrive 5 minutes early instead of 15 to 20. Most likely, everyone in the online interview will also be meeting from home. If you arrive earlier, you might be stuck in an online waiting room. It is still important to arrive a bit early, however. You don't waste valuable interview time addressing any connectivity or audio issues. 
You may even want to test your audio and video half an hour to an hour before your video interview to ensure everything is working correctly. If you have a Zoom account, you can use Zoom's test features to make sure everything works. Google Video Chat also contains similar preview features.
Ideal video interview environment
The location you select to do your interview is extremely important. You should choose a quiet location with a reliable Internet connection. If possible, try to choose a location that isn't your bedroom. For example, you may have a nice spot at your breakfast nook or office space you can borrow. If your bedroom is the only location you have, try to angle the camera in a way that highlights you more than your bed or other items in your room. 
If you live with other people, be sure to notify them about your interview so you can measure their volume or avoid barging into space where you will interview. Lock the door on pets as well as they can be unpredictable.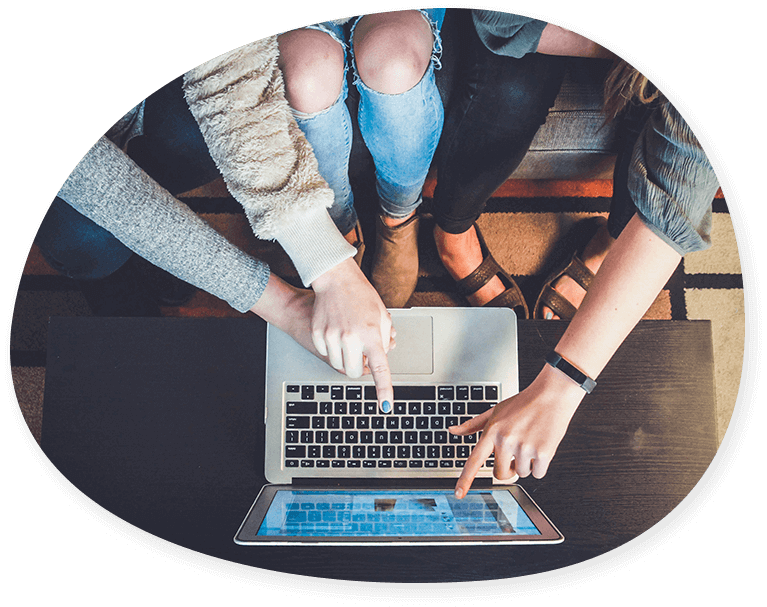 Looking for help preparing for your video interview?

During the video interview
Fake background or real background?
Zoom allows meeting participants to join any meeting with a background. A background should only be used if you feel your background is too unprofessional or unpredictable. For example, if you plan to take your interview in your dining room and someone in your home plans to make breakfast in the kitchen behind you or you're Zooming from your bedroom and your bed is unmade. The most ideal real Zoom background is a blank wall or in front of a bookshelf. 
If you must use a fake background, make sure it is professional. Use brick walls or a picture of the workspace such as an office. A quick Google search of "professional Zoom backgrounds" should yield some great examples. Try to find a large, high-quality photo. You should also ensure that the green screen perfectly covers the walls behind you. Try moving around to make sure the green screen works properly. You would never want to be in a situation where half your shirt turns into a fake background. 
It's so secret that in-person interviews are more involved; video interviews feel less engaging for many reasons. There are so many distractions that are vying for the interviewers' attention. They may have children at home, work to attend to, or other priorities. It is as simple as turning off their video or opening up a new tab. Therefore, you want to make sure you're not talking too long or rambling on any given question.  Shorter, more impactful answers are always better and do not leave the interviewer room to lose focus. Practice answering questions using the STAR method to help keep answers concise! 
It is harder to establish a connection with people via video chat than it is in-person. Try to compensate for that by being friendly. A kind persona may work in your favor in a similar way that being kind and bringing positive energy to an interview would. 
If you run into technical challenges, try your best to troubleshoot. If you lose your interviewer for any reason during the interview, call them immediately via phone. It is important that they know that you care about this interview and are doing everything you can to keep going. If they don't pick up, try sending an email detailing the loss and your attempt to reach them. They will likely have some instructions on how to resume the interview. If you are unable to solve the challenges, email them with suggestions about alternative meeting plans. Again, your initiative will bode over well.

Send a thank-you note after the video interview
As with any regular interview, thank you notes are crucial. Thank the interviewer for their time and the opportunity. Let them know you look forward to hearing from them soon. A small token of appreciation goes a long way in the interview process. 
Video interviews are here to stay, but they also present unique challenges. But with a little preparation, you can ace your interview!