Writing a resume for working professionals is already daunting, so it's completely understandable to feel overwhelmed at the thought of building a resume as a high school student.
Part of Prepory's college counseling services includes writing a resume and receiving unlimited support from your coach. We have served thousands of students and have found many students struggle with highlighting their accomplishments in a way that stands out to college admissions officers. High school students oftentimes do not believe they have done much or do not know how to generate results-oriented bullet points. We share some tips on what should be included in your resume and a sample resume to help guide you through the process.
Why do you need a resume?
High school résumés give colleges a snapshot of your work experience, extracurricular involvement, awards, and achievements. Résumés can also be helpful in preparing for interviews or to give to teachers and counselors who are writing your recommendation letters.
How should I outline my resume?
A heading with your name, address, phone number, and e-mail address
The heading should be the largest font on the resume. If your resume is a 12 point font, then your heading should be 14-16 point font. The purpose of the heading is to make sure the reader knows how to contact you and you definitely want this to be easy to find.
High information such as:
Your graduation date
GPA (weighted)
Class rank (if applicable)
SAT/ACT scores
Academic awards, publications, honors, and other achievements. For example:
Earning honor roll
Scholarships
Volunteer award
Relevant coursework. For example:
Pre-college summer programs
College courses
Other specialized workshops that do not appear on your high school transcript
Advanced Placement Courses
Dual Enrollment
Specific courses towards interests
Extracurricular activities/community service
Extracurriculars and community service demonstrate a commitment to a certain team, club, or mission. Admissions officers want to see that you use your free time effectively and while students have other responsibilities such as household chores, the admissions officers want to know that you are investing in your high school and educational experience.
Focus on depth and length of commitment. When deciding which activities and accomplishments make the cut, remember that it's about quality, not quantity. Colleges would rather see you engaged in one or two key involvements than a list of 20 clubs you barely engaged with.
Provide detail whenever possible. The details are what set a resume apart from a list of extracurriculars on a standard college application. For example, when describing your involvement in the French Club, make sure to include your role, school years/hours per week you participated, and specific contributions. (e.g., "organized a successful after-school film series to introduce our community to French cinema and culture").
Work experience
Working for a company or an organization shows that you are responsible and reliable. Make sure to include any jobs you held after school or during the summer. Use proper language and make sure you are using action verbs.
Hobbies
Hobbies and additional interests are anything that you take part in that is not part of your school curriculum, school based programs, or community service involvement. A hobby is something you do in your spare time when there is no real motivation to do it other than for enjoyment. Be mindful of the kinds of hobbies you participate in. Only list ones that reflect you in a positive light. For example, practicing violin, teaching a Zumba class at your local gym, horseback riding, etc.
Special skills (e.g. foreign language fluency, HTML expertise)
Skills are something that the student can do well with a certain level of ease. Consider your hard skills that are tangible and quantifiable because those are most desirable. For example, program software proficiency and foreign language proficiency.
College admissions officers only know what you tell them. Your hobbies, skills, and interests show that you have a wide array of interests and would be a great addition to their campus.
There's your outline! A few additional tips while you draft your resume:
1. Keep it concise.
Showcase only the most brag-worthy and representative parts of you as a candidate. Your resume should only be one-page long. Use action verbs in short statements for a greater effect.
2. Highlight things you weren't able to write about in your college essays or short answers.
Use your high school resume to show colleges something new and interesting about you.
3. Formatting is key.
Make sure your résumé is easy to scan. Divide information into sections with clear headings, bulleted lists, and a consistent font. Use a system of organization that works for you (chronological, the importance of activity, or time commitment).
Sample High School Resume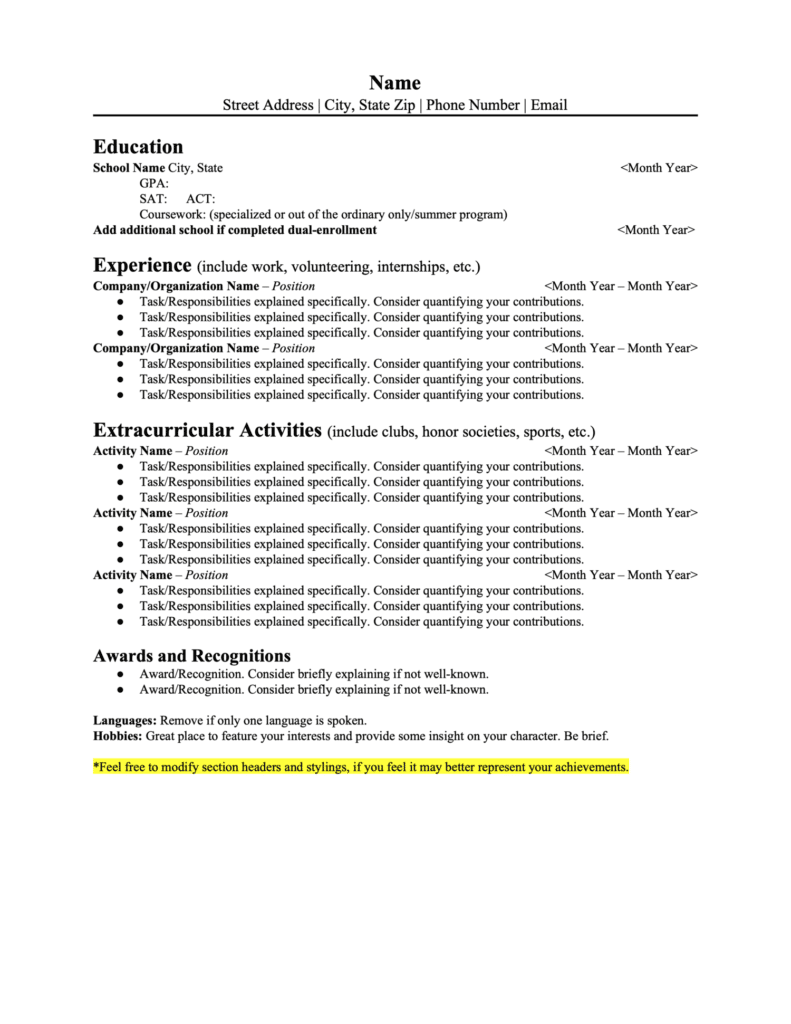 Need help crafting a competitive high school resume that will make you stand out in a pile of applicants? Let us help. Prepory's comprehensive college admissions program includes unlimited resume revisions and writing.