Sometimes it can feel overwhelming to apply for an entry-level job. Even though a job may be advertised as an entry-level position, the listed skills and qualifications can sometimes feel intimidating. That said, a good guideline to follow when applying to entry-level positions is that jobs that prefer 1-2 years of experience are generally pretty flexible, especially if the right candidate comes along. 
In this article, we will discuss the importance of a well-written resume, as well as how to write an entry-level resume and how to write a resume summary for entry-level positions. We will also take a look at an example of an entry-level resume so that you can get a clearer idea of what's expected of you during your job search. 
What are the different types of resumes?
What is the best format for a resume? It depends on several factors, but if you are wondering how to make an entry-level resume stand out, read on!
In this section, we will discuss the characteristics, strengths, and weaknesses of the three most popular professional resume formats: chronological resumes, functional resumes, and hybrid resume. 
As you review these professional resume formats, you may also want to consider perusing some of the best resume templates in 2022 for further inspiration. 
What is a chronological resume?
The chronological resume is the most standard resume format. As such, job recruiters tend to be the most familiar with this type of resume. They are straightforward, logical, thorough, and easy to scan.  
Here's an example of what a chronological resume looks like:
Chronological resumes are written in reverse chronological order, with your most recent experience listed first. They emphasize past job experiences and tell a clear narrative of where you are in your career. That said, this can pose some challenges for entry-level job seekers without much experience.
Don't worry, though! We will provide some key strategies and writing tips for you to use later in this article. For now, though, let's take a look at the two other types of professional resumes. 
What is a functional resume?
A functional resume focuses on your potential, passion, and job skills — more so than industry-related experience. For this reason, it can be a good choice for young professionals or people changing careers. Again, the emphasis is placed on your passion and potential. Generally, early-career professionals have a lot of passion and motivation, so use this to your advantage!
Another benefit to a functional resume is that your personality can come across stronger than in a more traditional resume. Personality always plays a role in the hiring process. It is even more important, however, for entry-level positions. 
Companies want to hire workers who will contribute to the overall sense of camaraderie and teamwork. Give them a reason to want to invest in you and provide you with the training that you will need for a successful career. 
Let's take a look at what a functional resume looks like: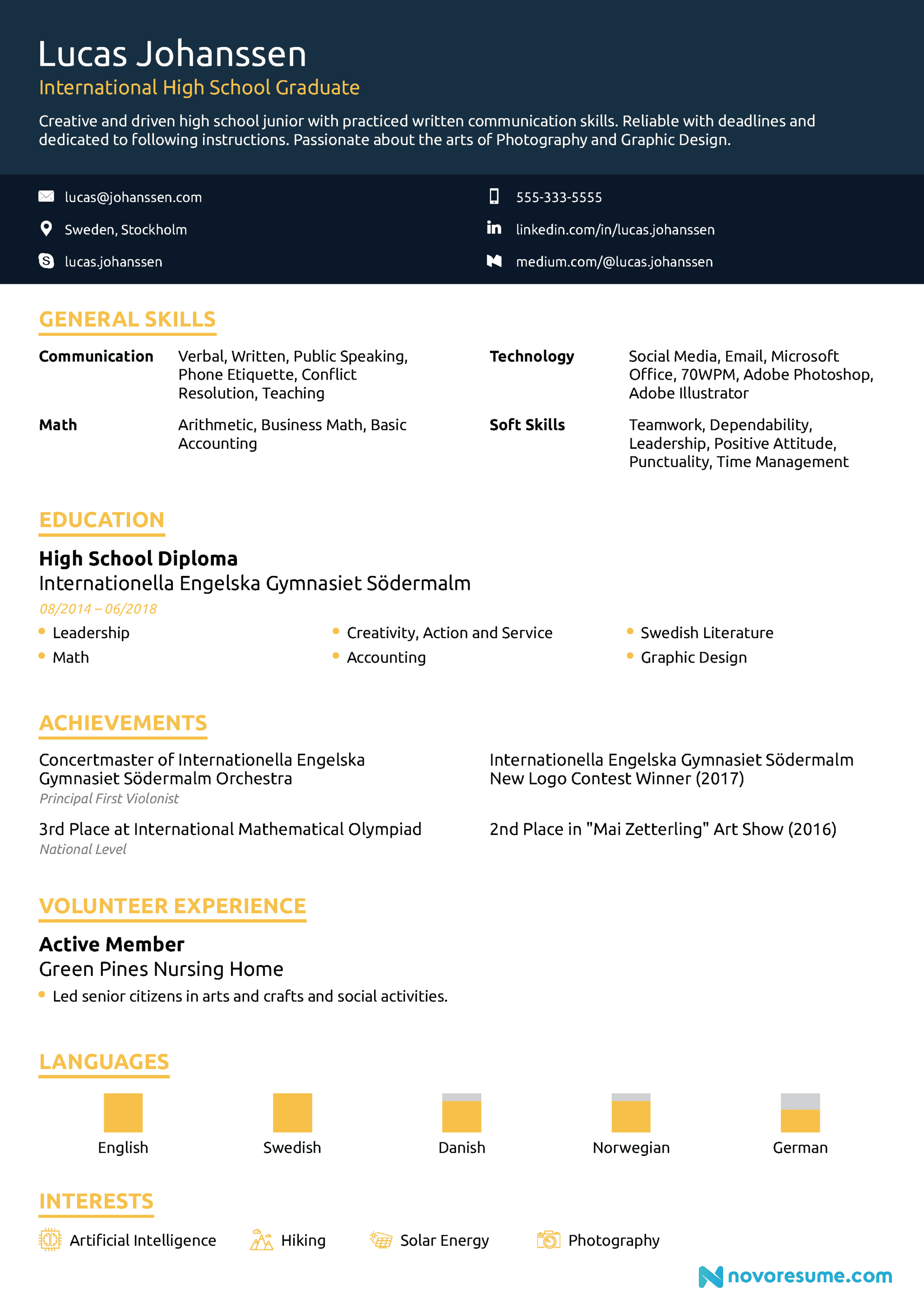 A hybrid resume combines the strengths of chronological and functional resumes. Many job applicants choose to use a hybrid resume for this reason. There is no one way to write a hybrid resume, though. Mostly, you will have to compare several examples of an entry-level resume and decide what you like and dislike about each resume. Then you will want to look at your resume template options. 
How do I choose the best resume format for me?
It can be difficult to know how to write a resume for an entry-level job. That said, there are lots of strategies to help you succeed. First, find a resume template or a professional resume maker to help you get started. 
Review several examples of entry-level resumes and take notes on what you like and dislike about each example. This should help you make some important decisions about your resume. 
5 writing tips for entry-level resumes
In this section, we will review writing guidelines to follow when writing a resume. Some guidelines are straightforward: use a clear font, choose standard headings, and proofread. Other guidelines are more specific, such as where your education should be on a resume and how to write effective bullet points. 
So where should education go on a resume? For entry-level resumes, your education should be listed first — after your contact information and a brief resume summary. Generally, this signals to job recruiters that you are a young professional just starting out. This will help them adjust their expectations and standards as they review your resume. Also, if you are asking yourself: how long should an entry-level resume be? The answer is always one page. 
Write detailed bullet points
Write specific, detailed bullet points. Avoid general statements. For example, instead of saying "made espresso beverages at a coffee shop," say something like "served an average of 200 customers daily, while providing exceptional customer service, maintaining inventory, and making espresso beverages."  
Write a strong, thoughtful resume summary
At the beginning of your resume — after your contact information and before your education — include a resume summary. A resume summary is a 3-4 sentence summary of your applications. This is a great opportunity to highlight your passion, personality, and unique qualifications. 
Always tailor your resume for each job
Do not send out the same resume to multiple jobs. Always tailor your resume. Focus on including relevant experiences, skills, and qualifications. Always include keywords used in the job description. Not only will this highlight your qualifications and relevant experiences, but it will also help your resume rank well with applicant tracking systems (ATS).
As a young professional, it's important to focus on transferable job skills. This will help make up for a lack of industry-related experience as well as highlight your potential. Entry-level applicants may also choose to include "soft skills" on their resumes such as leadership, communication, honesty, adaptability, compassion, and interpersonal skills. 
Include and update your LinkedIn profile
The majority of job recruiters look at LinkedIn profiles before they conduct job interviews. So make sure you have a LinkedIn profile and that it is up-to-date. 
Professional resume makers and templates
Are you nervous about knowing how to write a good resume with no experience? Do you want to know how to make an entry-level resume stand out? 
What is an applicant tracking system (ATS)?
An applicant tracking system (ATS) is a computer program used by job recruiters to sort through and organize resumes. The majority of companies will use some sort of ATS during their hiring process. This is why it is important to ensure that your resume is optimized for ATS. 
To optimize your resume for ATS, include keywords and use standard formatting. This means you should use a standard font, standard headers, and a standard layout. Don't use headers or footers. Avoid using columns, tables, and graphs.
Key takeaways and moving forward
During your job search, it's important to tailor your resume for each position. Make sure it is polished, proofread, and professional. Use standard formatting and include keywords in the job listing. Include your full contact information and write compelling, detailed bullet points. If you feel like you could benefit from professional assistance during any stage of your job search, including learning how to write an entry-level cover letter, reach out to learn more about our services.