Last month, Florida Prepaid began its open enrollment period to purchase a Prepaid Savings Plan at this year's fixed prices.
A Florida Prepaid College Plan allows families to lock in college plan prices and prepay for their child's future college costs. Plans are broken down into monthly payments. 
It depends on how many years of college you plan on saving for and how much time you have before your child goes to school. A 4-Year Florida University Plan for a newborn starts at $181 a month.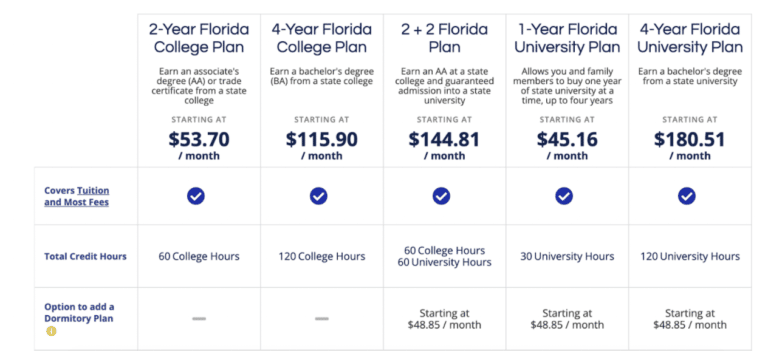 You can also use the price planning calculator to estimate plan costs based on your child's birthdate.
What are the benefits of a prepaid plan?
Florida's prepaid plans allow you to lock in the price of your child's tuition. That means if the cost ends up being less than what you paid, you'll get back the difference. If the cost is higher than what you paid, Florida Prepaid will pay the difference. 
What about out-of-state schools?
You can still invest in a Florida Prepaid plan if your child plans or ends up going to an out-of-state school. Basically, your plan will pay the same amount as it would pay at a public college or university in Florida. Then you pay the difference.
Open enrollment runs from February 1 through April 30, 2022. 
Following the pandemic, colleges are continuing to see enrollment numbers decline. We predict this will lead to higher tuition costs at colleges and universities across the U.S, so investing in a plan like Florida Prepaid might be a smart way to lock in college tuition prices at a lower rate than they would be down the road.

Contact a Prepory college admissions coach and start your college admissions journey.
Our college admissions experts are here to guide you from where you are to where you should be. Through our comprehensive curriculum, individualized coaching, and online workshops, you are set for success as soon as you connect with us.
During our initial consultation, we will: 
Assess your student's applicant profile and higher education goals 
Provide detailed information about our services and programming
Share tips on how to navigate the U.S. college admissions process