Ready to take your resume to the next level? In this guide, we're going to take you through the best ways to organize your resume and examples of how they should look as well. With these guides and templates, you should be getting calls left and right in the hiring process. 
By the end of this guide, you will be landing interviews. We want to take the stress out of creating a resume all on your own and help you build the best SEO marketing resume that you can. Let's take a look at a few different types of resume layouts and templates. 
When you are constructing your resume we suggest designing it to cater to the job that you are looking to get. If you are looking to fulfill a digital marketing position then there are a few different ways to construct your resume. Let's take a closer look.
Another tip to follow when you are creating your resume is to keep it condensed to one page. No recruiter has time to run through several pages of job experience. Break up your job experience into clear sections with bullet points. Reread your resume to ensure that it isn't filled with grammar mistakes or errors.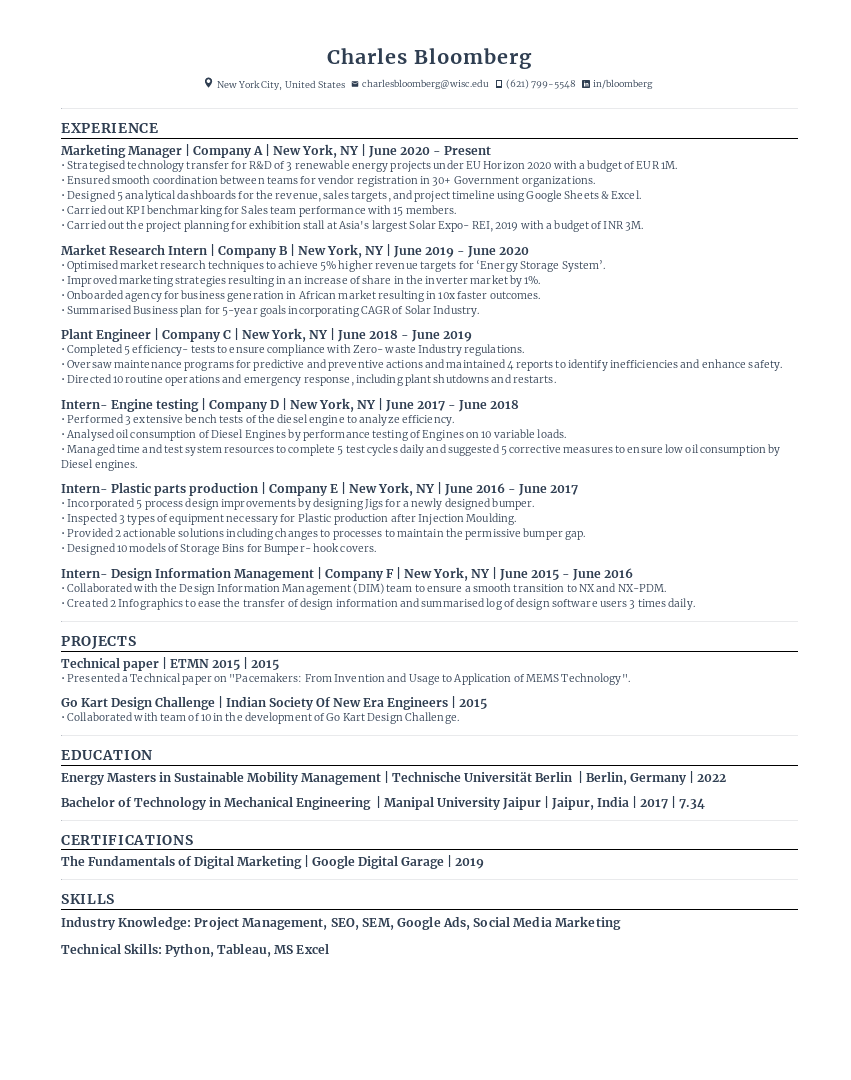 Digital marketing manager resume
The next resume we're going to run through is one directed to a digital marketing manager position. One thing you need to keep in mind when building up your manager's resume is showing ownership of the projects that you have worked on. One of the best ways to do this is to use strong grammar to make sure recruiters know that you have management experience. 
Along with keeping your resume organized with work experience, you should keep in mind having your current title in your resume because you'll be searching for a relative job title. Keep 'Digital marketing manager' underneath your name in your resume. Match it to the positions that you are applying for.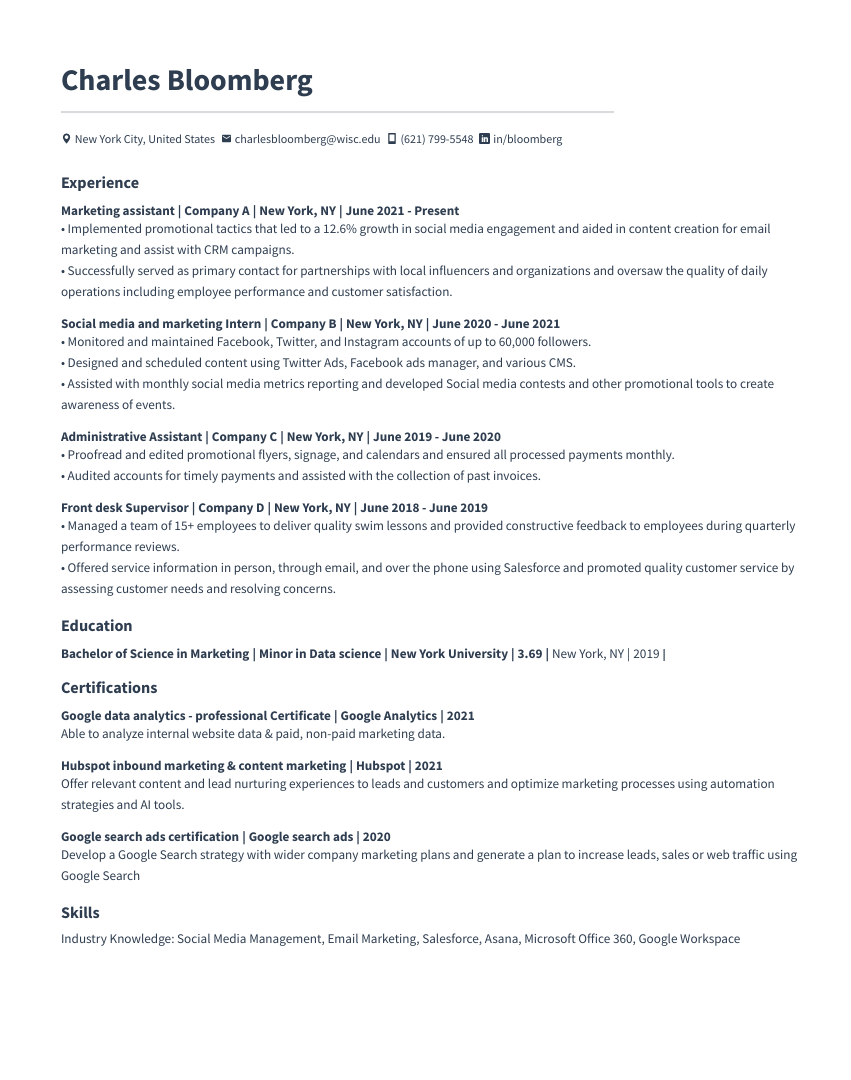 When creating your resume for an entry-level position the first thing that you should do is expand on your educational experience. If you don't have a lot of work experience to show for the job that you are looking for this is where education can step in. 
Another thing to include in your resume to make it stronger is addressing what marketing projects that you've worked on. Highlighting your education and volunteering experience shows the recruiter that you are ambitious and have what it takes to be a digital marketer.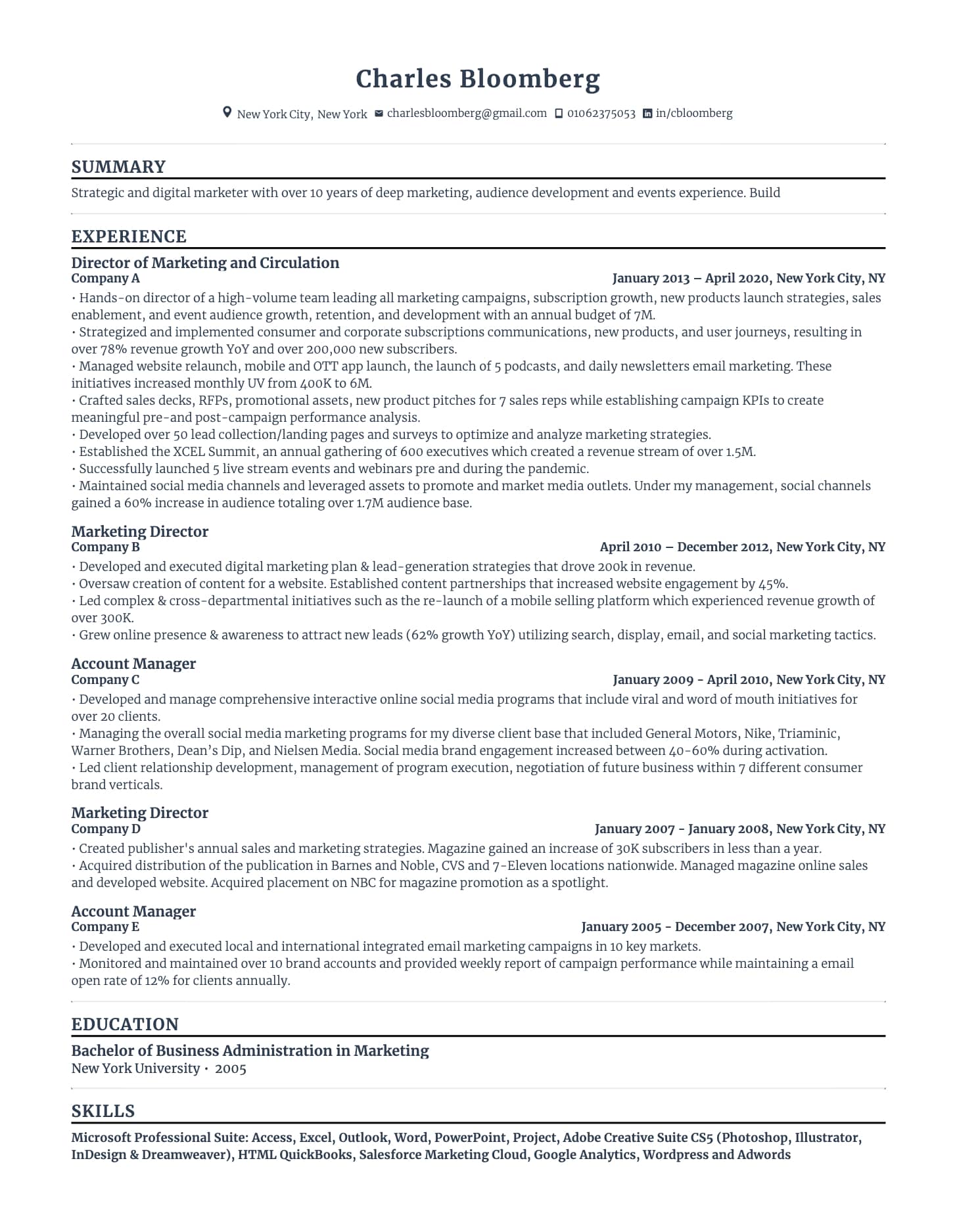 Senior marketing manager resume
If you are a more experienced employee looking for a new job, you must reflect on what you have accomplished over the years. Especially if you have had the opportunity to lead a team of other marketers, recruiters are going to want to know that you did that. 
Over the years, you can potentially gain a lot of experience. This is the time that you need to pick and choose the best experience you gained so that you can get the job you're looking for. 
Lastly, for a manager position, you need to address the quantifiable metrics in your work experience. It is most effective to organize your resume and experience in bullet points because the recruiter won't spend a ton of time on your resume at first. You want to make your resume eye-catching enough to gain the first interview.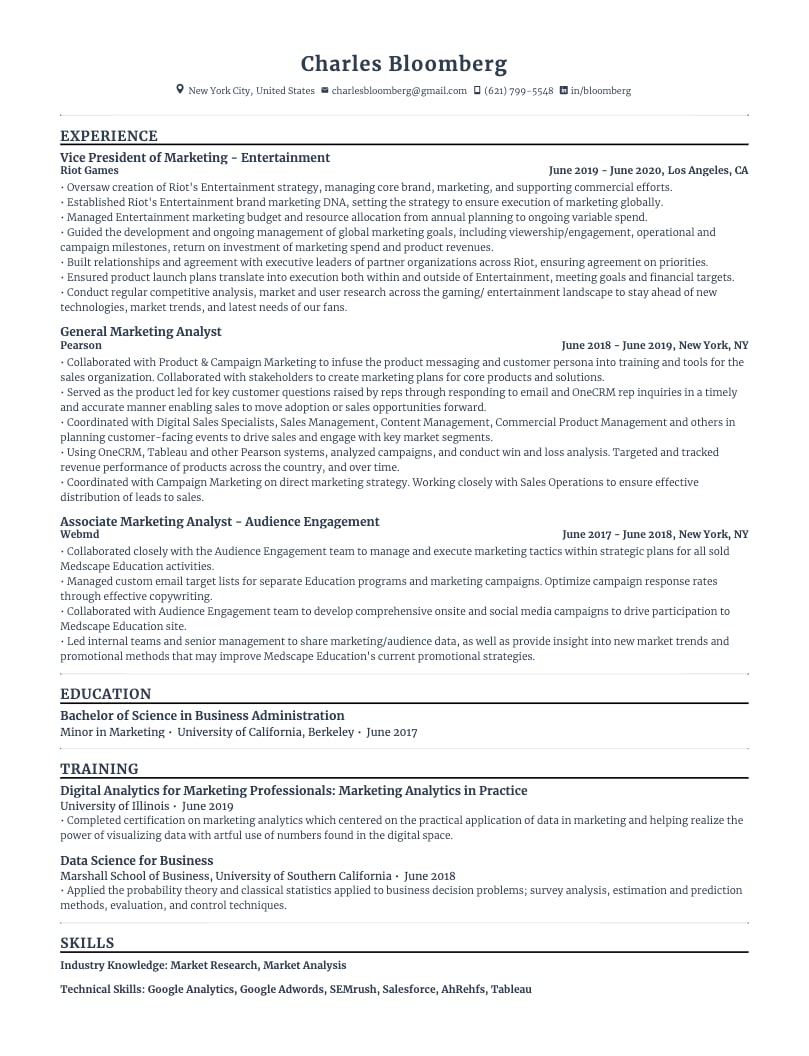 Digital marketing analyst resume
Things that you should address in your resume as a digital marketing analyst are your ability to turn meaningful data into marketing insights. Can you save time by automating reports? How effective is your A/B testing? The main thing about your analyst resume is to show that you can make recommendations to improve someone's analysis.
Develop your skills section and include technical abilities. You don't necessarily need to develop your soft skills on your resume. Your interview is your time to shine with the explanation of your skills. Keeping your resume short, sweet, and powerful is what is going to land you the interview. Once the interview is yours, then you can expand on all your qualities and techniques. 
The reason formatting your resume is so important is because it is the way you are marketing yourself to potential employers. You are trying to make a good first impression. Therefore you need to organize your information in the right format. Ensure your digital marketing resume is readable, logical, and professional. One of the most popular ways to organize your resume is in reverse chronological order.  
Reverse-chronological format
This format is one of the most popular to use because it helps you show off your strong work experience with no gaps. Recruiters appreciate the reverse work order because they can see where you worked last. 
The functional format is usually used by individuals who have a gap in their work history. If you have changed careers a few times, or have little relevant experience in jobs that you are searching for now, you'll want to use the functional format. The way a functional resume is organized is with the skills and abilities listed first and having your work experience come after that.
When you combine the two different types of work experience you get a combination format. While you may put your skills ahead of the work experience, you will still be organizing your work experience in reverse order. 
If you are unsure of which format to use, it is best to go with the reverse-chronological format because recruiters are interested in reading your work experience from newest to oldest. 
If you are still confused about how to organize or write your digital marketing resume then take a look at our resume-building tool. We have over 250 templates to choose from and amazing tips to help you build an eye-catching resume. Click here to start building your resume.  
Key takeaways for building your resume
Now that you know the best way to organize your resume, are you ready to land interviews this 2022? Don't forget to include all your skills and work experience to make your interview chances stronger. And don't forget to check out our resume maker if you get stuck and don't know how to finish building your resume on your own.