The height of summertime is upon us. For many, the thought of summer evokes the familiar smell of sunscreen, the smoky taste of barbecue, and the feeling of the hot sun on your back. And while summer can be a great time to relax, it shouldn't be the only thing you do all summer. With a free schedule and no homework in sight, summer is a great time to amp up your high school resume. A fantastic resume improves your chances of getting accepted to your dream college.
So here are 10 activities you can do to bolster your college application and keep you busy!
1. Volunteer!
One of the best ways to showcase leadership is by showing that you care for your community. Volunteers take time out of their day to help those in need and expect nothing in return. What could be more selfless and kind than that?
If you plan to volunteer this summer, make sure you are working with a cause you care about. Admissions officers will look at the causes you volunteered with and make assumptions about your passions. Make sure they are making the right assumptions. For example, if you have never left the country and don't really understand foreign politics, it wouldn't make sense to volunteer at Amnesty International. However, this may be a good fit if you are interested in foreign policy.
Volunteer experiences may be limited due to social distancing but not impossible. Many volunteer experiences have transitioned to online positions. Do Something and VolunteerMatch have both created resources that connect you to online volunteer opportunities. If none of these opportunities interest you, take initiative and reach out to local nonprofit organizations. Email a volunteer coordinator or director your interest in volunteering with the organization in any capacity. If you can, suggest a few ways in which you can volunteer virtually.
Here is an example email of how you can demonstrate interest in a volunteer opportunity: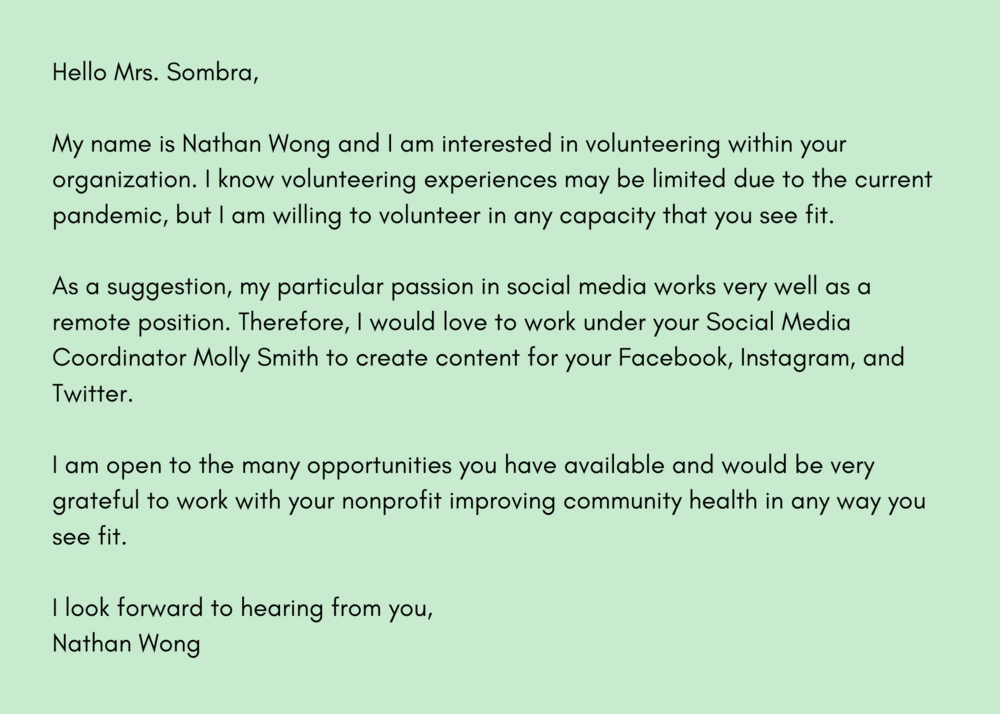 2. Start a business or nonprofit
Starting a business or nonprofit is one of the best ways to differentiate yourself from the competition in the college application process. It takes a lot of discipline and self-motivation. But if you are able to successfully build a client-base or raise money for a cause, admissions officers will be very impressed.
Right now, may think of a business and think of something quite large like Target or Apple. But that is not necessarily what admissions officers are looking for. You can start small. Consider babysitting on a regular basis, buying items wholesale and reselling them, or cutting people's lawn. But if your business picks up and does well, you can start employing responsible friends or family members.
Starting a business or a nonprofit organization may be a daunting task but it is possible! Think about things you do well or enjoy doing. For example, perhaps you are good at photography. You can start a photography business over the summer and charge people for photos. You may even consider employing a friend who can hold a reflector or fix the model's clothes or hair. In a simple and easy way, you have started a business.
3. Intern
With all your free time in summer, you should start thinking about what you want to be when you grow up. Interning is a great way to get hands-on experience in a field you may be interested in. If you are interested in medicine, consider asking family members or friends of the family to shadow them at work. These experiences give you real-world experiences early. Then, you will be able to speak about them on your college application.
Applicants with significant internship experience prove their dedication to their preferred major and have more professional development. Admissions officers view these experiences favorably. They admire students who go out of their way to learn and grow.
Most companies offer internships to college students. However, it is possible to gain internship experience as a high school student. So consider your friends and family members, called your network, who may have connections in the field you're interested in. Is there anyone connected to you that could help? Talk to friends' parents or even one of your family members' friends. People who know you are more likely to help you.
If you can't think of anyone in your network, try calling and emailing different companies and asking if they would be willing to take an intern. Impress them with your initiative.
4. Take college courses
What better way to prove your commitment to a school than to take courses in summer when you don't have to? College courses not only boost your weighted GPA. They can help pad your unweighted GPA if you perform well. Talk to your counselor about taking courses over the summer.
Although it may not be the most exciting thing to do during your summer vacation, it is also a great way to start earning credits towards your college degree.
5. Start a website, blog, Instagram page, etc.
Perhaps the idea of starting an organization over summer does not sound interesting to you. Consider starting a website. Your website can focus on anything you want. Perhaps you really like video games. You can create a website that discusses some of the best video games on the market and links to some of your gaming YouTube videos.
However, a website alone isn't enough to make admissions officers excited. Anyone can create a website. The most important aspect of your website is how much traction you are able to draw to your website, blog, Instagram page, etc. You will want to keep track of numbers so you can showcase your ability to build and maintain an online platform. For example, suppose you start a nature Instagram page where you post pictures of animals with interesting fun facts. If from one month to the next the Instagram's follower account grows 200%, that is something you can brag about on your high school resume.
6. Perform research
Try performing research over the summer, especially if you are interested in the sciences. Start by identifying a problem you want to learn more about. Use something you have some familiarity with and wouldn't mind spending time learning about. Perhaps you want to learn more about the soil toxicity levels in your community. After you determine a subject, find a mentor or teacher who can help guide you through the process. For example, if you are trying to learn about soil toxicity, perhaps you want to reach out to your AP Environmental Science teacher or a professor at your community college.
Use your local library, the internet, and your mentor as tools to help you find answers to the questions you're asking. Learning, experimenting, and asking questions is where you should spend the bulk of your summer. Afterward, try to find a place to publish your work. Consider academic journals, local newspapers, or even just as a report at your local community college. Whatever you decide to do, you should try to share your findings with your community.
7. Get a summer job
This is probably the way most students spend their summer. You may decide to work at a summer camp or at the grocery store near your home. Consider going full-time for the summer so you can make a little extra money. Summer jobs will always prove your work ethic, responsibility, and dedication to admissions officers.
Even in the time of COVID-19, there are still many jobs you can apply for. If you feel comfortable working, many restaurants, fast food, and grocery stores are hiring. In addition, jobs like Amazon, Uber Eats, and Postmates are also looking for people to deliver food as these types of industries are on the rise. If you would like to stay at home as much as possible, consider applying for remote work.
8. Do a pre-college summer program
Pre-college summer programs are programs that help students prepare for college life. Students will eat, sleep, and take classes at a college. These programs can be a great way to demonstrate interest. However, it does not help you if you are not interested in the school where you attended the summer program. For example, if you attend the pre-college program at Harvard University and then place the program experience on your Yale University application, it will likely not bode over well. The college admissions officer will likely think you are more interested in Harvard because you attended their summer program.
9. Teach yourself a skill or get a certification
In the season of social distancing, there is no better time than right now to teach yourself a skill. Perhaps you can teach yourself a new language, an instrument, or how to code. Certifications can also be a great high school resume. Consider getting a certification in CPR, Adobe Photoshop, Nursing Assistantship. These skills can help you look like a true expert in your field. What skills or certifications that could diversify your profile?
10. Visit Schools
Visiting schools is a great way to narrow down your college list and demonstrate an interest in a school. Visiting schools will help you develop an understanding of the campus culture. Campus culture will ultimately determine what school you choose to attend. You can use these visits to create relationships and get the inside scoop on the school. These visits can be especially helpful in the "Why this College?" essay.
At Prepory, we recognize there is more to college applications than demonstrating interest. If you're having trouble navigating the college application process, contact us. Let one of our college admissions experts help you go from where you are to where you should be.