Most, if not all, of the jobs you will apply for will require you to submit a resume in order to be considered for a position. The purpose of the resume is to effectively highlight your strengths, differentiate you from other candidates applying for similar positions, and to ultimately land you an interview.
Before you begin writing your resume, consider the positions and industries you're interested in applying for. It is likely that you will have to create several versions of your resume in order to specifically market yourself towards certain positions or industries. For example, someone considering both private sector and public sector work, should not submit the same resume to a government customer service position and customer service position at a Fortune 500 company. Knowing what positions and industries you'd like to apply to will help you determine what strengths and skills you must highlight in your resume in order to be invited for an interview.
Before You Write Your Resume
Before you sit down and write your resume, identify target industries, companies, or job functions. This background information will help you understand how you should write and format your resume. Feel free to use dream positions to inform your work experience section. Identify the most important functions of the position(s) you're interested in and craft your resume to highlight your proficiency in those functions. For example, if you find that most Tourism Events Managers oversee projects, you may want to include a time you oversaw a project in a previous position.
Understanding the industry you want to break into can also help you highlight skills that may be useful in the future. Even though a job may not require it on the job description, having a skill that will be necessary in a few years places you ahead of the curve. For example, you may be looking for a job as a teacher. While most schools still operate as brick-and-mortar institutions, showcasing your ability to navigate and manage an online classroom may be attractive to many schools.
What to Include in a Resume in 2020
Your resume should include the following sections: contact information, education, experience, skills, and awards. Some optional sections may include hobbies, languages, interests, publications, volunteering, and other industry-specific pieces.
Contact Information: The contact information section should be the focal point of your resume. Your name should be the largest font on the resume with your phone number, email, and address provided below it. Be sure to use a professional email and avoid emails with the following domains @yahoo.com, @aol.com, and @bellsouth.net.
Education: Depending on the breadth of your experience and the relevance of your education for the job position, your education section may come after or before your experience section. If your college major is tightly related to the position you're seeking but your experience is a bit disconnected, you should begin with your education section. If your experience better connects to the position you're seeking, your education section should come after the experience section. Your education section should include your university degree, graduation month and year, and any academic honors or accolades. Your GPA should only be included if it is required by an employer or if it will portray you as an accomplished student.
Work Experience: The experience section of your resume is probably the most important. Before writing this section, conduct research on the most desired skills for the positions you'd like to apply to and review job descriptions to curate keywords you may feature on your resume in order to impress the hiring manager or recruiter. Keep in mind, when you apply to a specific job, you will tailor your resume to include the specific keywords used in the job posting. For example, if the job posting uses the words "planning, coordinating, executing" you will use those action verbs in your work experience section.
This is incredibly important for your resume to make it to the lap of a hiring manager.  According to Jobscan, over 98% of Fortune 500 companies use an Applicant Tracking Systems (ATS). "Rather than manually reviewing each resume, recruiters and hiring managers can search for resumes based on keywords, or have the system filter or automatically rank applicants."
When drafting each experience list the name of the company first, then your title. If your title better correlates to the title(s) of the positions you're applying to, you should include the title first. This section of your resume should be written in bullet point format and exclude the use of pronouns (e.g. I, you, he, she). Each bullet point within this section should begin with an action verb that illustrates your responsibilities and achievements. Try to provide as much contextual information as possible to help hiring managers understand the scope of the work you did. You should use industry-specific vocabulary to demonstrate your experience. Also, quantify your experience and contributions wherever possible. You can do this by describing the number of customers you assisted, providing the number of employees you managed, or dollar amount you contributed to sales for the companies you've worked at.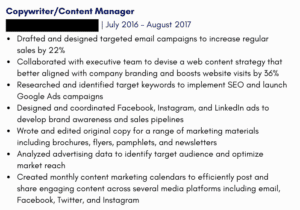 Skills, Accomplishments, and Awards: Your skills section should indicate your level of fluency in a language or experience using a variety of software systems. Be sure to list the software systems that you've used that are most relevant to the industries and positions you're applying to. You can also use this section to highlight any industry-related certifications and the year you acquired them.
If you have no accomplishments for your resume, don't worry. There are many ways to highlight your skills and abilities anecdotally, even if you didn't receive formal recognition. If you improved sales by 120% at your company or created a program or policy the company still uses, you can list those as accomplishments on your resume. While those accomplishments do not have an award attached to them, they are extremely impressive and will communicate your abilities to any hiring manager.
Other Information: Depending on the positions you're interested in you may include additional information like volunteering, hobbies, and publications. The hobbies/interests section could be used to humanize you as an applicant or build a connection with the hiring manager based on a common interest. You may also include any volunteer or extracurricular experience if it is related to the company's mission or if you are applying right out of college. Last, you may include additional industry-specific achievements including publications or relevant coursework.
Formatting and Style of Your 2020 Resume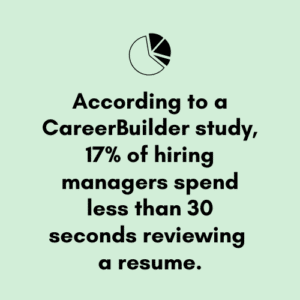 For the vast majority of the positions you'll apply to, you should adhere to the one-page rule. With such little time to impress the person reviewing your resume, it is imperative you do so quickly. Maintaining your resume to exactly one page and using keywords found in the employer's job description will help push your resume into the "yes" pile.
Format: Formatting is a large and very important part of your resume. After you've drafted a resume, ensure all stylings and headings are consistent and use a professional font in size 10.5 – 12 point. Avoid curly, cursive, or bubbly fonts. You can also use color on your resume to stand out. Choose colors that are easy to read on white paper and try to limit them to headings or subheadings. All important information such as job functions in the bulleted information should be written in black font.
It is the small details that make a difference on your resume. All of your dates, headings, bullets, etc. should align with one another. Misaligned resumes are a quick way to communicate to a hiring manager that you may not be the most detail-oriented person. Templates on Microsoft Word are not always the most user-friendly and can easily disrupt the flow of your resume. Consider using a graphic design platform that helps users easily align information and create an attractive, clean resume.
If you're applying to a company with a youthful or creative culture, you may add small design elements in order to really stand out.
Formatting for Applicant Tracking System (ATS): If a company is using an ATS, refrain from using graphics, charts, designs or tables. Create your resume on a standard Word Document. Your section titles should be clear and traditional (e.g. Work Experience, Professional Experience). Do not put anything in the header or footer of the document, the ATS could skip the information.
The easiest way to confirm whether a company is using an Applicant Tracking System (ATS) is to visit their careers page and check for any vendor logos.
Here are a few common ones to look out for:
Additionally, if you hover over the "Apply" button and look at the bottom of your browser window, you should see the destination URL appear. If the company is using an ATS software, the domain will indicate the vendor.
Grammar: According to CareerBeacon, 61% – 76% of hiring managers will completely disregard your resume if there are any grammatical or spelling errors. Read through your resume closely and often. Ensure that you've used the right form of a word (i.e. their, they're, and there), the correct word (manager vs. manger), and apostrophes are placed in the right place (its and it's). Writing applications with advanced features such as Google Docs can often catch small grammatical mistakes or misplaced apostrophes. Use these functions to your advantage, but also be sure to ask colleagues and peers to read over your resume as well. It may even be worth it to seek professional assistance with this make or break your resume.
Last, ensure that the action verbs describing your responsibilities at a former position are written in the past tense and that action verbs describing responsibilities at your current job are written in the present tense.
Sending Your Resume:  First and foremost, follow directions as listed on the application. IF there are no specific directions on how to submit your resume, when sending your resume through email, send it in a PDF format. The format is viewed as the most professional and ensures that no one is able to make changes on your resume once they receive it. PDFs can sometimes distort the format created on Word or Google Docs so be sure to download your resume and view it in Adobe Reader before sending it out.
When uploading your resume to a company using an ATS, it is best to use Word. TopResume states, "While PDF files are the best at preserving the design and format of your resume, it is not compatible with all ATS software." Unfortunately, even though the system is meant to ease the lives of hiring managers, it can be very finicky. Your best bet is to upload as a Word Document to ensure the system reads all the content in your resume accurately.
When providing a physical copy,  print your resume on linen paper or parchment paper. These types of papers have a more professional look and feel. Something as small as printing your resume on professional paper distinguishes you from the rest.
What You Should Not Include In A Resume in 2020
It is unnecessary to include a lengthy objective section as your cover letter will include this information and more. You should also avoid including personal information including photographs, gender, age, and/or race. Last, refrain from including references as the employer will request this information if it is necessary.
Best Types of Resumes 
There are many different ways to structure your resume, each with a distinct purpose. You can structure your resume chronologically, functionally, combination, with a profile, or by an infographic.
Chronological Resume: Reverse chronological resumes are the most commonly used resume format. They begin with your most recent work experience and work backward. This type of resume is most effective for people who have remained in the same industry or career function for some time and have enough experience to fill up a page. Hiring Managers like this resume because it clearly paints a picture of your work history and accomplishments.
Functional Resumes: Functional resumes may be useful if you have experience across multiple industries or if you don't have a great deal of experience in the industries you are applying for. Functional resumes don't follow a chronological order, instead, they go in order of the most relevant experience to the least relevant. For example, a functional resume can list a job you worked at three years ago first, if it is the most relevant position to the job you're applying for. These resumes also do not necessarily need to be uniform. In a traditional, chronological resume, you may have five bullets to describe the functions of each position you worked for. However, functional resumes typically allow you to provide more information about the positions that most match the position you're applying for.
Combination Resumes: Combination resumes contain elements of both the functional and chronological resumes. They can be especially helpful if you are switching industries. These resumes highlight your transferable abilities through skills and/or objective section and list your previous job experiences in chronological order. These kinds of resumes help you direct employers' attention to the skills you'd like to highlight, while still providing a thorough list of your previous work experiences.
Resumes with Profiles: We encourage job seekers looking to move to executive and director roles to use these types of resumes. Resume profiles are not objectives. Instead, they are brief paragraphs at the beginning of your resume that include information about your experiences, abilities, and achievements. Profiles help hiring managers understand if your successes align with the goals of a company.
Infographic Resumes: Infographic resumes are graphically enhanced and use visual elements to highlight skills. They may use a graph or chart to demonstrate proficiency within a specific skill rather than simply stating it. These resumes are especially effective when applying for jobs in a creative field, such as graphic design or content creation.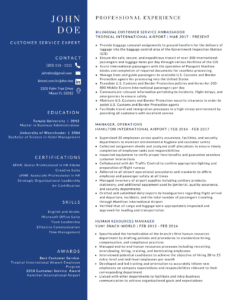 Do you need help drafting a strong resume in order to land your dream job? Our team of career coaches and experts are ready to guide you from job search to placement. 
Fill out the form below to get started.