Let's face it. Not many people remain in the same career forever. In fact, the average person changes their career three to seven times. Millennials are likely to change their job four times before they turn 32. Job loyalty has deteriorated alongside job security. As such, employers expect to see candidates who may not have the right education or a list of professionals in the field who can vouch for their abilities. And despite the lack of resources or networks, you can't get the job! There are many ways to address your career shift and use it to your advantage when applying to new jobs outside of the field you have experience in. All it takes is a few tweaks to the materials you already have.
Writing Your Resume When Transitioning to a New Career
An important first step is rewriting your resume. Although your experiences may not directly match the job description, there are ways in which you can tailor your experiences to align with the job expectations. For example, if you are applying for a job as an advertising account coordinator from a position as a mental health counselor, you may want to skew your resume towards your communication and analytical skills.
Highlight instances or tasks where you were expected to use soft or hard skills that would be useful in the positions you're applying for. As a person transitioning from one career to another, your resume will need to be perfect. You should tailor every resume to the job you are applying for. These key details will help set you apart and highlight your skills in the most important areas. It is likely that hiring managers will look at your resume first, so it must accurately convey your abilities.
The Introduction of Your Cover Letter
Your resume will obviously highlight the fact that you are transitioning to a new career. Use your cover letter to explain why you are transitioning and what makes you a superior candidate. After writing your standard salutations and expressing your interest in the role, explain your switch to another field. Keep this part of your cover letter succinct. You do not need to go into every minute detail about your desire to change careers. It is not entirely what the employer is looking for. It is very important to acknowledge your career switch. As it highlights your ability to acknowledge your weakness.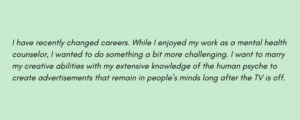 Body Paragraph 1 of Your Cover Letter
Use the next paragraph or two to explain your transferable skills in-depth and how they can be useful to the company. You can even discuss why your differentiated way of thinking may provide different insights or nuances within the problem of the company. If you have a project or initiative that can particularly underscore a wealth of abilities and skills that may be useful, you can zero in on that instance.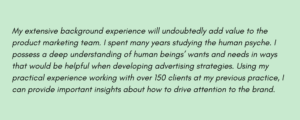 If there are particular skills the job requires that you do not possess. Express your intent to learn those skills. In fact, it may be best to suggest you are already learning those skills. It will help ease the employer's mind and look at you more favorably. After all, people don't want to hire someone who has absolutely no experience in the areas of the position. If the job requires a skill you may have to pay money for, invest the money in the program. It will help give you a leg up on recent grads who may not have the certification or skill set under their belt just yet.
Body Paragraph 2 of Your Cover Letter 
Employers might still be very skeptical about hiring someone who is transitioning to a new career. Another way to persuade employers in your favor is to do as much research as possible on the company and include it in your cover letter. You don't want them to perceive you as a novice in the industry. Discuss your excitement about the company and its status in the industry. Provide enough details to prove you've done your research without inundating the hiring manager about the company he or she presently works for. Most importantly, include ways in which you can contribute to the company's success and keep them on a positive trajectory.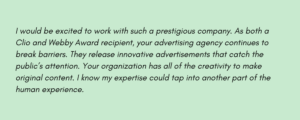 The Conclusion Paragraph of Your Cover Letter
Be proactive as you end your letter. Include your eagerness to provide more context surrounding your ability to do the job. If necessary, offer writing, art, or other materials to help them understand what kind of candidate you are. You should send follow-up emails and call to check on the status of your application. Once the interview rolls around, make sure you have answers prepared about how you will fill in the gaps of knowledge for the new industry and where your experience would be helpful.
The job market can be a difficult place, with or without a career change. However, if you prepare correctly and understand that there are skills you will need in any job, you can land your new dream job. Transitioning into a new career takes a lot of hard work and Prepory can help. Our career coaching services will help tailor your resume and cover letters to the industry you're looking to break into. We also provide interview prep to get you on the right track for success!
Fill out the form below to get started.