COVID-19, also known as Coronavirus, has shaken the United States and the world as a whole. Whether you are graduating in a couple of months, recently got laid off, furloughed or have been unemployed, your job search process should shift.
If you have been laid off, furloughed or your hours have been cut due to Coronavirus, we will also provide a guide on how to file for unemployment tips and some information on stimulus checks.
Due to the social distancing, networking meetings are going virtual, friends are meeting through Group FaceTime, and fitness instructors are conducting workouts through video conferences. The key is to adapt or as said in the famous scene from Friends — "PIVOT."
What job seekers should do during COVID-19
Apply to jobs
Stay positive and keep applying. This is not the time to quit! While applying to jobs without the looming threat of the Coronavirus is already difficult, continue to source positions and submit your resume for consideration. Although many companies are delaying hiring, there are other companies that continue to seek potential and some that urgently need employees to offset demand caused by the outbreak. Glassdoor released an article listing several companies that are hiring amidst the crisis. Forbes released a similar article, while there is some overlap, the article has a few different companies as well. Some businesses will be forced to launch new products, modify their operations in order to serve a quarantined population, or may use this as an opportunity to grow. These changes may lead to positions opening and can be an opportunity for job seekers too.
Filter to recent posts 
According to the U.S. Bureau of Labor Statistics, the unemployment rate at the end of February was 3.5%, very low. When unemployment is this low, it means there are likely more employers looking for employees than there are individuals looking for jobs. This is beneficial for job seekers because there is less competition. Coronavirus has shocked the economy and as companies continue to layoff employees, the unemployment rate will steadily increase. Competition for jobs will be higher than it was prior to COVID-19.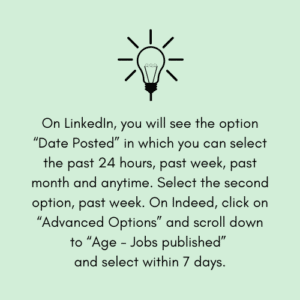 The week beginning Monday, March 16th was the kickoff week for many Americans transitioning to work from home, effectively social distancing, and unfortunately the beginning of massive layoffs. When you are searching for jobs online through LinkedIn, Indeed, ZipRecruiter and so on, filter to jobs posted over the past week.
If the position was posted in the last week, that means the position will be filled regardless of the Coronavirus outbreak. Using this tool will help ensure job seekers that they're investing their time in a worthwhile manner.
Adapt and be open-minded
Due to the expected increase in unemployment, the competition for available positions will increase as well. Keep an open mind and apply to as many positions as possible. Consider the aspects of a job that you consider to be non-negotiable and clarify what each of those factors is.
For example, let's say work-life balance is important to you and that means you prefer to have a flexible schedule working hours different from the corporate norm. Be open-minded. Now is a time to think about different ways you can accomplish work-life balance. Maybe the job won't allow a flexible schedule but it is a remote position, a high likelihood during Coronavirus. Teleworking allows for flexibility and eliminates the need to commute. Be open, if you won't, there will be someone else who will.
Obviously, you want a job in which you will be happy and fulfilled. Remember if you're interviewed for a position, you'll have an opportunity to learn more about the company and the opportunities within it.
Tailor your resume 
If your resume is not up-to-date and ready to send, check out our blog on How to Write a Resume in 2020 for resume rules, practices, and proper formatting.  Once your resume is polished, you want to tailor your resume to each job you are applying for. Yes, this is tedious but it matters now more than ever. Review the job posting and search for action verbs used in the responsibilities and qualifications section of the job posting. For example, if the qualifications section states "demonstrate project coordination skills" and "organize team meetings" you should include the action verbs "demonstrated," "coordinated projects," and "organized."
Include bullet points that present your experience in project coordination and organization. If you do not have experience in organizing team meetings, include other experiences in which organizing was important.
During this time, businesses are not in the position to take chances on new employees and may not have the manpower nor time to effectively train new employees. Presenting your experience and skillset in a way that specifically addresses the requirements and responsibilities of each position you're applying to will greatly amplify your likeliness of moving forward in the interview process.
Offer virtual interviews 
On your cover letter or email, extend your understanding of this unique time and extend an offer to meet through a video conference platform or an initial phone call. This way you present yourself as proactive.
Prepare for virtual interviews
Preparing for interviews is always essential. During Coronaviurus, you want to prepare for a virtual interview.
Once the interview is confirmed, double-check you have all the details. What video conference platform are you using? Do you have the access code? Do you have the application necessary to use it? Once you know you have all the details needed for the interview, make sure to test it the day before your interview. For example, if you are using Zoom for an interview, you can easily create a free account and schedule a meeting to test the functionality.
Use your laptop instead of your mobile phone. It's easier to view the interviewer on a larger screen. Also, your phone could get notifications while you are on the phone which may cause distractions throughout the interview. If you must do the video call on your phone, then make sure your phone is on silent. The same way you would put your phone on silent before going into an in-person interview to avoid getting calls or text messages. Prop your cellphone on a stable base so you are completely visible on camera. Get on the call 15 minutes before your scheduled interview. You may get a message that says the host has not joined yet, that's okay. Be prepared for the call to start once they join the call.
Take your call with a plain wall in the background, in a quiet space and have reliable internet. Do not set your camera facing you with a messy living room in the background. Find a clean and blank wall to avoid any distractions. Dress the part, from head to toe. Just because it is a video and they may only see your torso and above, does not mean you should wear a dress shirt with pajama pants. First, you don't know what can happen throughout the call that can cause you to stand up. Second of all, dressing up shifts your mindstate too! You always want to show up confidently to an interview. Dress the part, feel the part, excel at doing the part. Be ready for an epic interview.
Emphasize these skills 
Adaptability, creativity, independence and communication skills. These are all pivotal at this moment. Your communication skills should also discuss how you work with a team effectively. This is a moment where small businesses and large corporations alike will come up with new ideas, adapt, or flunk. There is a ton of uncertainty on what the near future holds and job seekers want to highlight the way they innovate and come up with new ideas in the face of many challenges.
If you have experience working remotely, highlight that as well. It does not necessarily mean you held a 100% remote job. It could be a project you worked on that was remotely or maybe another time period that required employees to telework.
Understand that skills can translate into many different situations. If you were in charge of a certain project and there were unexpected challenges that required you to make last-minute changes, that's adaptability. If you've had to come up with creative solutions because there was no other way — that's creativity.
Move quickly 
Job seekers should be responsive and fast-moving. Regularly check emails, set up your phone so that you receive a notification when you receive emails. You should not be using an email that receives a ton of spam. If you are, stop and create a new Gmail that you may use for applying. It's easy to lose track of emails and you do not want to miss an email from a hiring manager. The key is to respond quickly, if you receive an email, you should be responding within the hour.
Answer phone calls from unknown numbers. Unfortunately, a lot of people have stopped answering calls from unknown numbers due to spam calls but as long as you are applying, answer all unknown numbers. If you miss a call from an unknown number, call back immediately.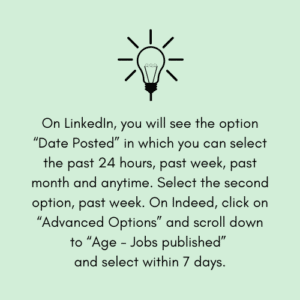 Schedule interviews at their earliest availability. If they propose early next week, ask for Monday. The purpose is to move your interview process along as quickly as possible in order to land an offer and immediately begin adding value to the business you might be working at. This will help you land and keep your job despite all of the uncertainty and expected economic slowdown.
Stay positive and ask for help
Whether you want to stick with cliches like "when life gives you lemons, make lemonade" or simply "stay positive," it's important to push through times like this. Prepory has written plenty of other blogs to assist you in the job search process including Questions to Ask in an Interview, How to Write a Cold Email, and more.  There are plenty of resources available. At times, the plethora of options could lead to confusion and feeling overwhelmed. Prepory is able to guide you through.
Here is some Information related to COVID-19 unemployment
Economic Impact Payments (i.e. Stimulus checks) from the Coronavirus Aid, Relief, And Economic Security (CARES) act.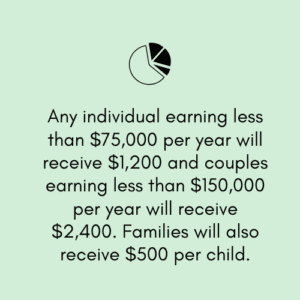 Unless you bring in a 6 figure salary, you will likely get a check courtesy of the CARES act.
As stated on the IRS website, payments are automatic for most taxpayers, no further action is needed by taxpayers who filed tax returns in 2018 or 2019. If you have not filed your taxes for 2019, you are still able to receive your payment automatically if you filed your taxes in 2018. Also, the IRS extended the tax deadline to July 15, 2020.
If you did not file your 2018 or 2019 taxes for qualified reasons, you may enter the necessary information to receive your payment here.
When you will receive your stimulus check
There is a lot of buzz around when payments will appear on your bank account. The IRS tweeted on April 11, 2020. Hopefully, you will be seeing payments in the upcoming weeks.
Understanding if you qualify for unemployment
In addition to supporting Americans with a check, the CARES act expands the net of individuals that qualify for unemployment benefits.
You qualify for unemployment if:
Your workplace closed due to COVID-19.

You had to quit your job because you contracted COVID-19

You can't work because you are the primary caregiver to someone whose school or other facility closed due to COVID-19

You were about to start a new job but they rescinded their offer due to COVID-19 or closed due to COVID-19

You can't get to work because of the quarantine in place due to COVID-19.
Unemployment benefits also expanded to include part-time and self-employed workers such as contractors and gig workers. However, several states (e.g. MD, NY, FL, etc.) do not yet have a process in place to assist these individuals.
For example:
Maryland states on their site "Please do NOT yet submit an application if you are self-employed, an independent contractor, gig worker…Our system is currently not set up to process these types of applicants, as they are formerly considered ineligible."

Florida states on their site, "As of April 9, 2020, the state is still developing a process to accept these claims."
Therefore, do some digging and see if your state is accepting applications for these groups specifically before applying. You may go through a long process to apply only to get denied because your state does not have a process in place yet. It's best to keep an eye out and wait until your state's site confirms they are accepting applications for these previously ineligible groups of workers.
How to File for Unemployment
Each state has its own system in place for filing for unemployment. Note that residents from several states (e.g. NY & FL etc) are facing long waits and challenges due to an overwhelmed system. Remain patient and persistent.
You can find your state's unemployment webpage here. You can file your claim online, over the phone or in-person if necessary.
The information needed for your claim will vary by state, below is the list for Florida.
• Social Security number
• Driver's License or State ID number
• Employment information for the last 18 months for each employer:
• FEIN number (this is found on your W2 or 1099 tax form), if available
• Employer name (name on pay stub), address, and phone number
• First and last day of work
• Gross earnings (before taxes are taken out) covering the last 18 months
• Reason for separation
Prepory understands the challenges of finding a job. Do you need help with the process? Our team of career coaches and experts are ready to guide you from the very beginning up until you accept an offer.
Ready to land your dream job? Schedule a free consultation by filling out the form below.