When applying to selective institutions, supplemental essays are a huge part of the process. It is imperative that you take the time needed to write, edit, and revise a stellar supplemental essay. Supplemental essays are an essential tool admissions officers use to assess student fit. Think about it: every other part of the application is relatively generic. 
Every college will receive the same information from the student including their name, demographic information, transcripts, SAT/ACT scores, and personal statement.
Supplemental essays dig a bit deeper into the student's personality, passions, etc. As such, these additional questions should be taken seriously. The college took the time to craft these questions on top of all the information they will collect through the application. They allocate resources and time for more information about you. It is important to use these essays to your advantage and prove to the school once more why you belong at that institution.
Use these essays to add another layer of depth to your essay. Think critically about what other facets of your personal life you would like admissions officers to know about you. Be strategic and specific in your answers.
Emory University is a private research university in Atlanta, Georgia. The school is well known for its liberal arts college, professional and graduate programs, and the renowned healthcare system. Emory Healthcare is a hot-spot for students interested in medical science as the university allows students to observe real-life applications of their lessons in class (according to The World University Rankings). 
Emory University is also recognized as one of the nation's leaders in research. The school maintains a relationship with the U.S. Center for Disease Control and Prevention. The prestigious university produced not one but two lifesaving therapy drugs for HIV, has a two million square foot research space, and hosts Georgia's only comprehensive cancer center.  
Emory has a very competitive application process. The school has an 18% acceptance rate. Last year, the average accepted student had a 3.8 – 4.0 unweighted GPA, a 32-25 ACT score, and/or at least a 1410 SAT score. 
Think you have what it takes to apply? Let's review the supplemental prompts.
Essay Questions at Emory University
Emory offers six prompts, three under the "Reflections" category and three under the "Tell us about you" category. Students must answer one question from each category. Each essay prompt has a 150-word cap.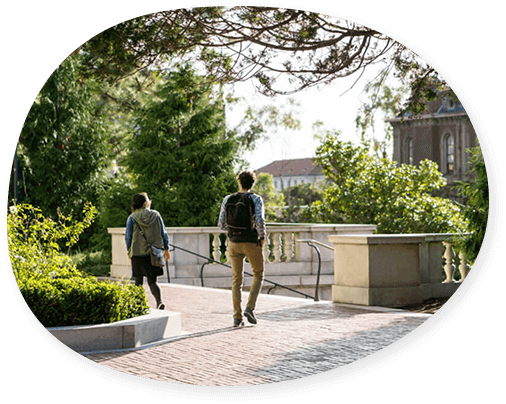 Share about a time when you questioned something that you believed to be true.
This question can be tricky, especially if you wrote about something similar in your personal statement. If your personal statement follows a similar theme, it may be a better choice to select the alternative prompt. If your personal statement doesn't touch on this subject, this may be an exciting essay topic. 
Your essay will likely one of the following organizational patterns: 
You questioned a belief and ultimately changed your perspective 

You questioned a belief, performed introspective thinking or research, and reaffirmed your belief

You questioned a belief and found some middle ground of correct and incorrect
There isn't one specific organizational pattern they are looking for and no one is better than the other. All of these organizational patterns can be effective, especially when written correctly. 
Beliefs are usually an incredibly personal thing. They chose this prompt for that exact reason. Emory can learn a lot about you from the things you hold true. These beliefs can be about religion, society, family, culture, politics, etc. 
What admissions officers want to learn about you from this essay is how you respond to new, perhaps conflicting information. You may want to set the stage by explaining the belief you hold true. Perhaps you believed that all people were treated equally, no matter what. Then, you should write about the instance that altered your perspective. The moment does not have to be monumental or dramatic. Your realization may have come from a conversation with a friend, a news article, a tweet, or maybe even a small observation. This part of the essay is your exposition. Do not spend too much time on this part of the essay because this is not the important part. 
The bulk of your essay should be about what you did after you received conflicting information. Did you consult other sources? Did you go on a journey of introspection? Or did you dig in your heels and ignore this new information? As you can probably guess, the admissions committee is looking for students who did not do the latter. After you took the time to learn, how did you grow and change? How did this information change who you are today?
The admissions committee wants to know how you emerge from personal challenges. Be sure your essay paints you as a curious, smart, and reflective student. 
If you could go back in time, what advice would you offer yourself at the beginning of secondary/high school?
At the heart of this prompt, the admissions committee wants to learn how you have grown and changed throughout high school. The way you answer these questions tells them how you have matured from freshman year to now. 
This essay does not have to be academically-focused; in fact, it shouldn't be. Going back in time to tell yourself to study harder is cliche. It may look more like you are trying to pander to the admissions committee. Think beyond your academics. What personal life lessons did you learn from high school? What qualities or traits do you possess now that you wish you had more back then?
It is also important to provide context about why you would provide this advice for yourself. Spend time explaining why this new value is important to you and what you've learned from displaying this value. 
For example, you write about how you would advise younger you to speak up for yourself more. In this essay, you may want to explain how being quiet and shy prevented you from joining clubs or making new friends. You may also want to include how becoming more outgoing and honest helped you grow as a person and take on new challenges. 
Reflect on a personal experience where you intentionally expanded your cultural awareness.
The keyword in this prompt is "intentionally." Admissions officers want to see your initiative. In other words, how did you go out of your way to learn about a different culture? Again, this does not need to be a grand moment. It can simply be asking a friend about their cultural background or attending a cultural holiday at your community center. 
Similar to the last two prompts, the most important part of this essay is the takeaway. What did you learn from this experience? How did this cultural experience shape the way you understand the world? How did you grow or change from this experience?
In any essay you choose, it is important to highlight how you changed from beginning to end. 
"Tell us about you" Category
Which book, character, song, or piece of work (fiction or non-fiction) represents you, and why?
Oftentimes, students try to impress admissions officers by mentioning canonized books or pieces of art (think work from Shakespeare or a piece from Michelangelo). Try to avoid this approach unless you genuinely identify with those characters or pieces of work. Instead, choose books, characters, songs, or pieces of work that actually matter to you; it doesn't matter if the song is obscure or you are sure the admissions officer has not read the book your character is from. The character, song, or pieces you choose is not nearly as important as why that piece represents you. 
This question helps admissions officers understand how your creative brain works. What's more, it helps them understand how you think of yourself. The most impressive essays will focus on the details. For example, if you choose to talk about a song, try to focus on more than just the lyrics. Perhaps the tempo or beat drop is representative of a part of your personality. 
Another approach you can take is discussing how a particular book represents you because of how it changed your outlook on life. Or maybe, it helped you through a difficult time in your life. It doesn't matter how you choose to approach this prompt, what's most important is that you back in as many detail-oriented comparisons that reveal more information about who you are as a person as much as you can. 
If you could witness a historic event first-hand, what would it be, and why?
The keyword here is "why." The event you choose matters much less than why you chose that event. Use this historical event to reveal a particular interest or passion. Perhaps you want to travel back in time to see the Silk Road because you are interested in the emergence of global markets within the economy. Perhaps you want to travel back to 17th century Italy to see the first commedia dell'arte troupe perform in the streets because you're a huge theatre buff. 
While the event isn't as important as your "why," try to steer away from the cliche, well-known events. You may not want to choose Martin Luther King's "I Have a Dream" Speech or the September 11 attacks. Many students will likely choose these topics and you want your essay to stand out. 
With an essay like this, it is easy to spend too much time explaining the historical event and not enough time explaining why you care about it. With only 150 words, you have very limited space. Use your space efficiently by only spending the first few sentences explaining the event. The following sentences should be focused on you. Make sure the admissions officer learns something new about you from this essay. 
Introduce yourself to your first-year Emory University roommate.
This prompt helps admissions officers understand how you view yourself and how you communicate with others. Do not spend time discussing rooming arrangements. Think of this as a less formal introduction of yourself. What information do you think is important for someone who will be living with you to know?
You may want to tell them your habits, quirks, hobbies, interests, or sleeping schedule. You can be as quirky as you'd like with this essay. Perhaps you want to share that you're a night owl because you like to spend hours on the internet looking up conspiracy theories about what happened to the Zodiac Killer. This prompt is a great place to let your guard down a little more and let the admissions committee know what kind of person you are. You are free to write in your own voice so long as you are still professional. 
Remember, these essays are supposed to be reflective and reveal more about you. Try to have fun with these essays! You're nearly there. Good luck!